The Warriors have more nationally televised games* than the Raptors, Heat, Pistons, Kings, Suns, Grizzlies, Hornets, Bulls, Pacers, Hawks, Nets and Magic combined.
*Counting only games on ABC, TNT or ESPN. NBATV games don't carry the same prestige and exposure.
Fair? The NBA and its television partners think so, and that's ultimately what matters.
The league released its schedule yesterday, and that always provides a telling look at the NBA's hierarchy. Team strength and market size both matter for getting these marquee games.
Here's how it shakes out this year, with:
ABC in blue
TNT in green
ESPN in orange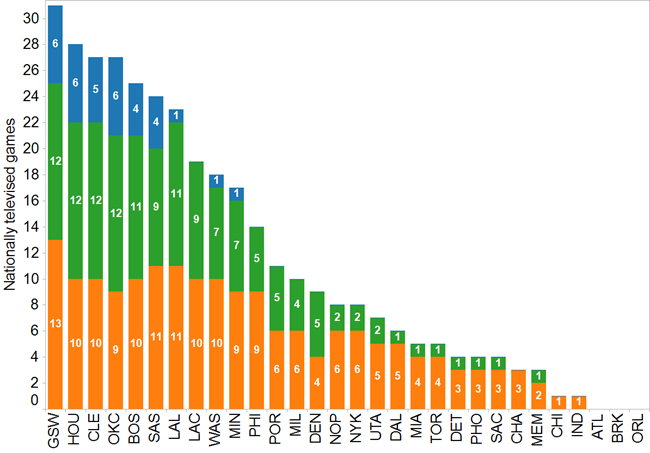 Using Kevin Pelton of ESPN's win projections for each team and a linear regression, we can plot how many nationally televised games a team would be expected to have based on projected wins – and where NBA teams actually fall: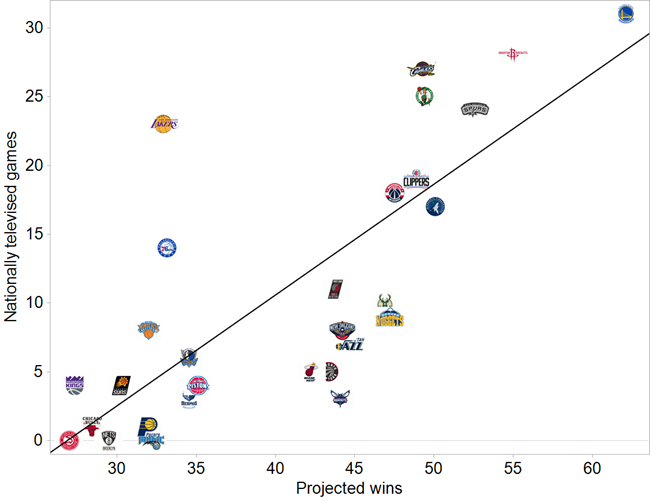 Of course, the Lakers top their expected value by double anyone else. That Los Angeles market does wonders, as does an even wider fan base. At least Lonzo Ball should make the Lakers more exciting this year. That beats all the seasons they were bad and boring and still got plenty of national exposure.
The big loser by this method? The Hornets, whose on-court projections would peg them for nearly 11 more nationally televised games than they actually received.