Did the style of Game 4 of the NBA Finals – emotional, physical, intense – benefit the Cavaliers over the Warriors?
"It benefited them tonight, for sure," Golden State coach Steve Kerr said.
Kerr was admitting a defeat, not perpetual defeat, in this area. But the Warriors will have to rise to the challenge, because Cleveland sounds committed to maintaining it.
"The first two games, we were being too nice," Cavs coach Tyronn Lue said. "The first three games, helping guys up off the floor, smiling, talking to guys and – yeah, I didn't like that. So I'll take Game 4 over anything else. Talking trash, being physical – whatever you got to do to try to get that edge to win, you've got to do it."
The Cavaliers, with the help of the referees, brought a chaotic feistiness to Game 4 – and thrived in it. This Finals, the first matchup of teams that met the previous two years, already featured plenty of testiness. Game 4 just upped the hostility.
The first three games of the series saw three technical fouls. There hadn't been an entire NBA Finals with more than that in six years. Game 4 added seven (!) technical fouls.
Here's how many technical fouls each team and each Finals had called since 2009 (as far back as the NBA's available records went back):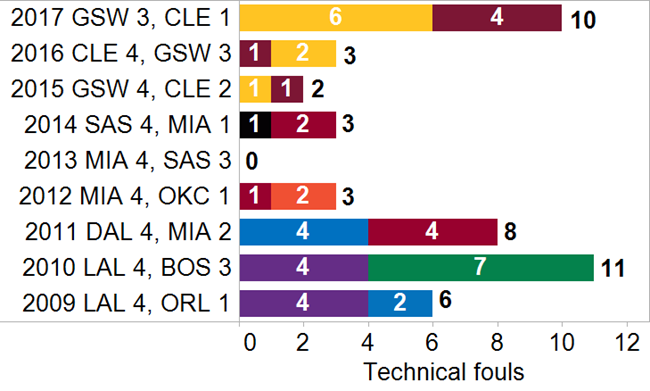 The 2017 Finals are only four games in. Per game, the technical-foul rate blows the other Finals on record out of the water:
Obviously, not all these technical fouls speak to resentment between the teams. Officiating so bad, the referees acknowledged their errors, led to a lot of frustration. But just two Game Four techs – one on Steve Kerr (or Draymond Green for the conspiracy theorists) and one definitely on Green – came for arguing with the referees. The others stemmed from player-player disputes:
The Cavs want this tumultuousness. That and making 3-pointers is their best chance for a comeback. Draymond Green, arguably Golden State's emotional leader, is happy to oblige in this spirit of play.
So, bring on the technical fouls – baited, earned and in between.