It's 20 years to the day for Michael Jordan's famous Flu Game, and the legend of His Airness seems only to grow. Sunday morning a pair of Jordan's game-worn shoes from the 1984 Olympic gold medal game in Los Angeles brought a huge price at auction.
That price? $190,373.
But it gets better. According to ESPN's Darren Rovell, that price breaks the previous record held by another pair of Jordan's shoes.
Those shoes? The ones worn on June 11, 1997 in that famous Flu Game.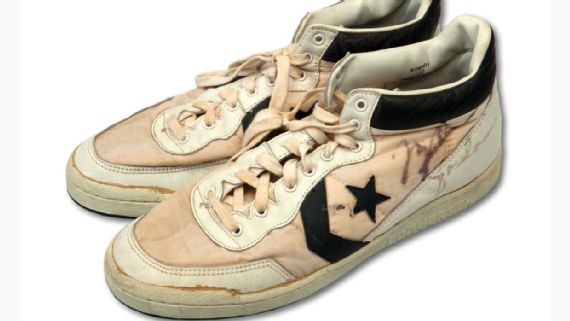 The Converse worn by Jordan in the 1984 Olympics, courtesy SCP Auctions.
Via ESPN:
The previous record for a pair of game-used sneakers sold at auction was for the ones Jordan wore in Game 5 of the 1997 NBA Finals, also known as the "Flu Game." In that game, played exactly 20 years ago Sunday, Jordan battled through flu-like symptoms to score 38 points in the Bulls' win over the Jazz. Those sneakers sold for $104,765 in 2013.

Jordan's shoes from the 1984 Olympics, which are autographed and include his orthotic inserts, are considered the last pair he wore in a game as an amateur. The shoes were obtained by a ballboy who happened to be the 11-year-old son of Los Angeles Lakers great Gail Goodrich. The game was played at The Forum in Los Angeles.

It also marked the last time Jordan wore Converse in an official game.
That's some basketball serendipity right there.