LeBron James had a legendary individual performance in Game 3 of the NBA Finals last night, but even he couldn't do everything. He ended the first and third quarters on the bench, resting for just two minutes and 23 seconds. In that span:
Warriors 12, Cavaliers 0
12-0! In a game Cleveland lost by just five, this was perhaps the most incredible stat.
In one sense, the Cavs lost down the stretch. But they really lost because LeBron doesn't have unlimited endurance.
He faded late, seemingly weighed down by such a heavy workload. Yet, his breathers were still too long for the Cavaliers to win. They just collapsed in his brief rests.
Here's every time someone played 90% of his team's minutes in a playoff game and saw his team outscored by at least eight without him since 2001 (as far back as Basketball-Reference records go):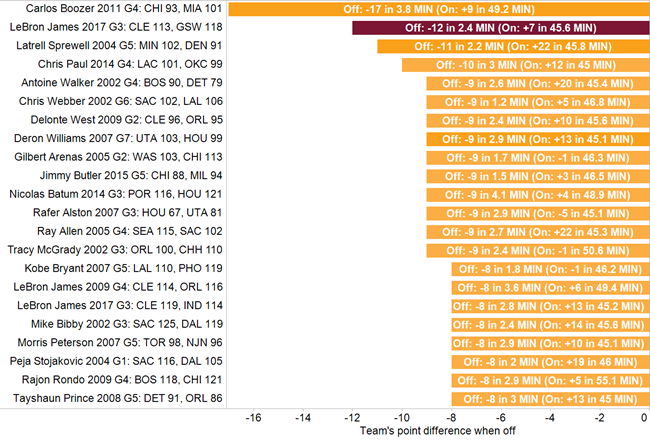 The only time a team fared worse while a high-minute player sat in this span was Game 4 of the 2011 Eastern Conference finals. The Bulls got outscored by 17 points in the 3.8 minutes Carlos Boozer sat in a 101-93 Heat win.
What LeBron did is almost always enough. Teams with a player who played 45 minutes and was at least +7 were 224-7 in the playoffs since 2001.
But the Cavs' supporting cast is too meager. The Warriors are too much.
LeBron is the best player in the world. That just doesn't seem to cut it in this series.