Kevin Durant has been so good in the NBA Finals, he has overshadowed the back-to-back reigning MVP.
This time, it isn't because Stephen Curry has struggled.
Curry (30.0 points on 46% shooting, including 45% on 3-pointers, with 10.5 assists, 8.0 rebounds 2.0 steal per game) has been sensational in helping the Warriors to a 2-0 lead over the Cavaliers. Durant (35.5 points on 56% shooting, including 50% on 3-pointers, with 11.0 rebounds 7.0 assists, 2.5 blocks, 1.5 steals per game) has just been even better.
The Golden State stars have combined for a cumulative Game Score of 119.5 – the best mark by a team's top two players in the first two games of an NBA Finals since at least 1984, as far back as Basketball-Reference records go.
Durant's cumulative Game Score, a rough measure of overall contributions, in the Finals is 67.3, and Curry's is 52.2. For perspective, LeBron James has a cumulative Finals Game Score of 51.9.
This is the "Two MVPs are greater than one" math. Durant (2014 MVP) and Curry (2015 and 2016 MVP) are making the game easier for each other. LeBron is trudging along with far less support. Kyrie Irving has underwhelmed, and though Kevin Love is putting his best foot forward, he's not an MVP.
Here's how Durant and Curry compare to the other top tandems in the first two games of a Finals since 1984, by combined Game Score: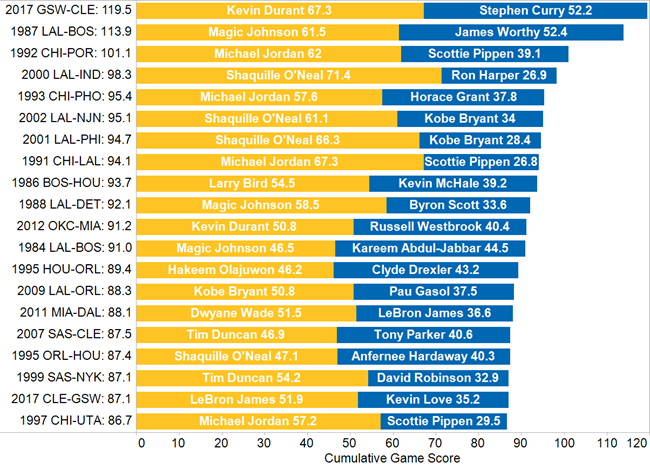 Magic Johnson-James Worthy, Michael Jordan-Scottie Pippen, Shaquille O'Neal-Kobe Bryant – they never started a Finals like this. LeBron and Love crack the leaderboard, but if Durant-Curry is surpassing those all-time great duos, how can the Cleveland pair hold up?
LeBron might still be the best player in the world right now. Durant outplayed him in Games 1 and 2, and Curry rivals LeBron's contributions so far. But Durant and Curry benefit from playing together, clouding the picture.
As long as this remains debatable, the Warriors have a major advantage.
Cleveland has one MVP playing at an elite level. Golden State has two. It's mostly that simple.