Cavaliers good, Warriors better.
That's becoming a trend in the 2017 NBA playoffs.
By overcoming a 3-1 deficit in the 2016 Finals then winning its first 10 games of the 2017 postseason, Cleveland tied the 1988-89 Lakers for the longest playoff winning streak of all-time (13). But Golden State, which became the first team to win its first 12 games of a postseason, broke that record with its 14-0 start to these playoffs.
If the Cavs don't play better in Cleveland, the Warriors – who lead the Finals, 2-0 – could carry a 16-game win streak into easier early rounds next year.
As it stands now, here's every team with a double-digit playoff winning streak: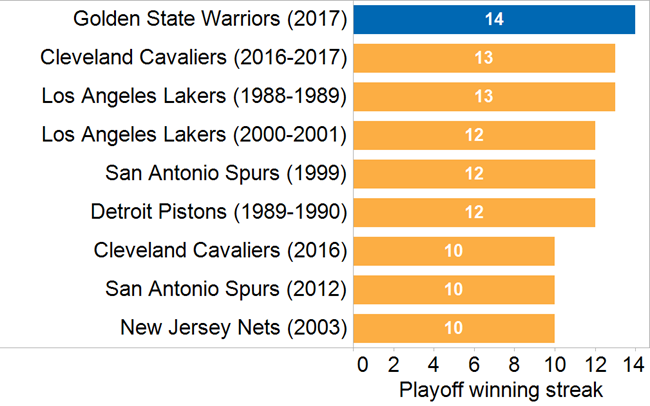 Golden State Warriors (2017): 14
Beat Portland Trail Blazers in 2017 first round, 4-0
Beat Utah Jazz in 2017 second round, 4-0
Beat San Antonio Spurs in 2017 conference finals, 4-0
Lead Cleveland Cavaliers in 2017 NBA Finals, 2-0
Cleveland Cavaliers (2016-2017): 13
Beat Golden State Warriors in 2016 NBA Finals, 4-3 (won final three games)
Beat Indiana Pacers in 2017 first round, 4-0
Beat Toronto Raptors in 2017 second round, 4-0
Beat Boston Celtics in 2017 conference finals, 4-1 (won first two games)
Los Angeles Lakers (1988-1989): 13
Beat Detroit Pistons in 1988 Finals, 4-3 (won final two games)
Beat Portland Trail Blazers in 1989 first round, 3-0
Beat Seattle SuperSonics in 1989 second round, 4-0
Beat Phoenix Suns in 1989 conference finals, 4-0
Lost 1989 NBA Finals to Detroit Pistons, 4-0
Los Angeles Lakers (2000-2001): 12
Beat Indiana Pacers in 2000 NBA Finals, 4-2 (won final game)
Beat Portland Trail Blazers in 2001 first round, 3-0
Beat Sacramento Kings in 2001 second round, 4-0
Beat San Antonio Spurs in 2001 conference finals, 4-0
Lost first game of 2001 NBA Finals to Philadelphia 76ers, but won series 4-1
San Antonio Spurs (1999): 12
Beat Minnesota Timberwolves in 1999 first round, 3-1 (won final two games)
Beat Los Angeles Lakers 1999 second round, 4-0
Beat Portland Trail Blazers in 1999 conference finals, 4-0
Beat New York Knicks in 1999 NBA Finals, 4-1 (won first two games)
Detroit Pistons (1989-1990): 12
Beat Chicago Bulls in 1989 conference finals, 4-2 (won final three games)
Beat Los Angeles Lakers in 1989 NBA Finals, 4-0
Beat Indiana Pacers in 1990 first round, 3-0
Beat New York Knicks in 1990 second round, 4-1 (won first two games)
Cleveland Cavaliers (2016): 10
Beat Boston Celtics in 2016 first round, 4-0
Beat Atlanta Hawks in 2016 second round, 4-0
Beat Toronto Raptors in 2016 conference finals, 4-2 (won first two games)
San Antonio Spurs (2012): 10
Beat Utah Jazz in 2012 first round, 4-0
Beat Los Angeles Clippers in 2012 second round, 4-0
Lost to Oklahoma City Thunder in 2012 conference finals, 4-2 (won first two games)
New Jersey Nets (2003): 10
Beat Milwaukee Bucks in 2003 first round, 4-2 (won final two games)
Beat Boston Celtics in 2003 second round, 4-0
Beat Detroit Pistons in 2003 conference finals, 4-0
Lost first game of 2003 NBA Finals to San Antonio Spurs and lost series, 4-2