The Warriors earned favored status over Cleveland in the NBA Finals then dominated Games 1 and 2, showing the feared talent and stylistic advantages.
I'm talking about last year.
Golden State has outscored the Cavaliers by a combined 41 points in taking a 2-0 lead in the NBA Finals this year, but the Warriors were +48 and up 2-0 last year.
Teams that gone up 2-0 while outscoring their opponent by at least 25 are 13-1 in Finals. Of course, the exception is 2016 Golden State, which set the record for point difference through two games of the Finals then blew 2-0 and 3-1 leads.
Here's every team to take a 2-0 lead in the Finals, sorted by point difference: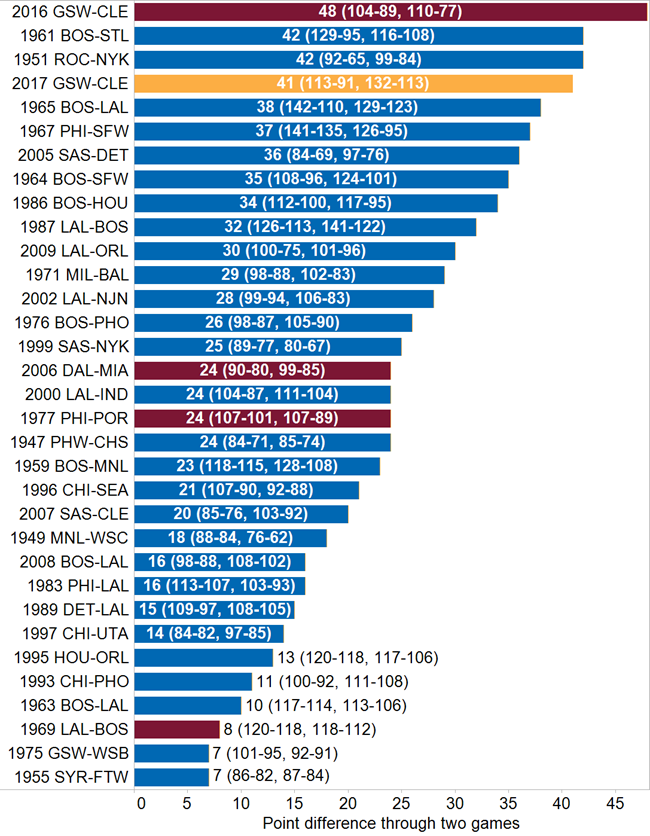 Considering the Cavs looked more overpowered in Games 1 and 2 last year then won the series, does that mean they're in good shape this year? Hardly.
Just because something unlikely happened doesn't mean another unlikely thing suddenly becomes likely.
Kevin Durant has been incredible, and Stephen Curry is the offensive force he wasn't healthy enough to be last year. Draymond Green remains an ace defender, and Klay Thompson bounced back in Game 2. A Warriors title feels almost inevitable.
But that was the case last year, and Cleveland can lean on that experience. LeBron James' teams haven't been crushed by early series deficits.
Either he'll again lead the Cavaliers back, or we'll gain an even greater appreciation of what they accomplished last year. That comeback was incredible feat, unlike anything we've ever seen.
Or will likely see any time soon.