OAKLAND — Kevin Durant has been the best player on the court through two games of the NBA Finals. Stephen Curry has been fantastic for the Warriors as well.
Now adding to Cleveland's woes: Klay Thompson's shot is back.
His shooting slump felt like a distant memory as he dropped 22 points in Game 2, to go along with his stellar defense making life difficult for Kyrie Irving (primarily).
"For me, it did feel good to see the ball go in," Thompson said. "More importantly, it felt good to get the win. I think tonight I was just in a good rhythm. It started with getting to the basket early and taking good shots. If I do that, it'll all even out."
Oracle Arena was never louder Sunday night than when Thompson hit shots, it felt like the entire Bay Area was hanging on the outcome of his attempts. (To be fair, the one thing that was as loud was the ovation for Steve Kerr's return to the bench.) Thompson had averaged 29 percent shooting over the five games leading up to Sunday, but in Game 2 he was 8-of-12 and hitting from everywhere. Check out his shot chart.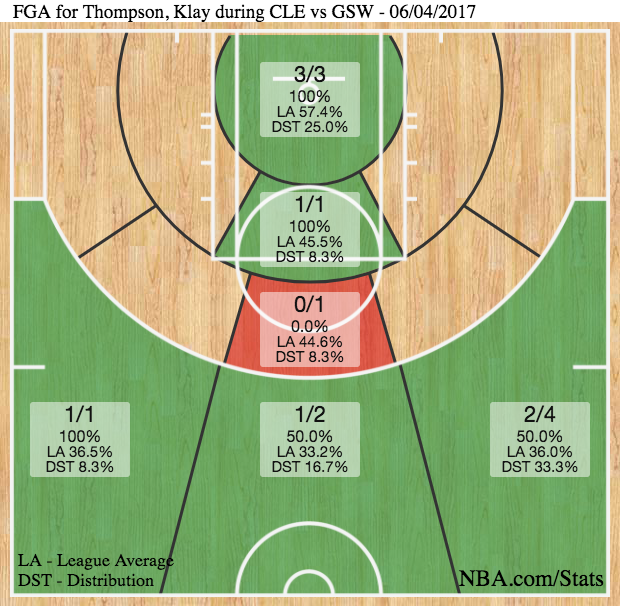 His 22 points in Game 2 mattered, but still not as much as his defense — that has been his contribution this series. Irving has struggled through two games and not been efficient, and a lot of that is due to Thompson.
Thompson also just looked more comfortable Sunday night with the pace of the game.
"I think they were trying to play small with us and maybe trying to get the pace up with us," Thompson said of the Cavaliers in Game 2 "I don't think they made that many adjustments, though. They forced us to turn the ball over more, which we can't do. That's about it, I think."
Not that he looked that uncomfortable through the slump. Thompson has the mindset of a shooter, that no matter what the next shot is going in. He may have forced some twos trying to get going, but he's not worried about that. He has a focus learned from his father — Mychal, the former No. 1 pick and Showtime Laker — that if his shot's not falling he has to contribute elsewhere. He has.
Thompson's play is part of the Warriors' versatility that the Cavaliers simply have not been able to match. He's not just a catch-and-shoot guy from three, he can handle the ball and run the break, he can put the ball on the floor and get to the rim, and he's also key to a very stout defense.
Which is why the Cavaliers need to be worried, they don't have players who can match up. And if Thompson's shot is falling like it did in Game 2 there may be no answer.