J.R. Smith got caught behind a screen then lunged at Kevin Durant, fouling the Warriors star as he made a 3-pointer. Less than a minute later, Smith crashed into a screen, trying to guard Stephen Curry beyond the 3-point arc all while Curry actually cut toward the basket. Smith realized his error, closed out on Curry out of control and hacked him.
Now, it seems the only reach might be the Cavaliers playing Smith.
The Warriors attempted or tried to attempt seven shots with Smith as the primary defender in Game 2 (according to NBA.com). They shot 4-for-4 and drew four shooting fouls, including one on Durant's made 3-pointer.
This wasn't all Smith's fault. On his final foul on Curry, Smith picked up the Warriors star only after Kyrie Irving didn't get back quickly enough on defense.
But Smith took the brunt of the blame. Cleveland coach Tyronn Lue clearly lost faith in Smith, pulling the guard after he fouled Curry early in the third quarter.
Smith played only 14 minutes, including just over two minutes in the second half – among the smallest second-half playing time by a starter in an NBA Finals game since 1997 (as far back as NBA.com tracking goes):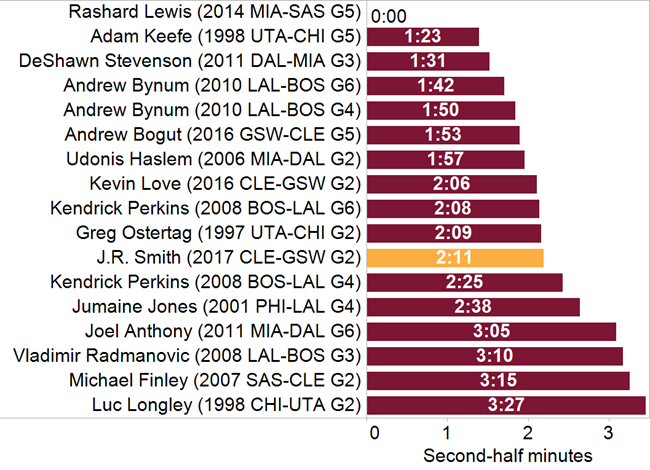 Several players on that list received reduced minutes due to injury. That's not known to be the case for Smith.
In fact, a player battling injury – Iman Shumpert – could start over Smith in Game 3 Wednesday.
Cleveland Cavaliers guard Iman Shumpert experienced cramping in the second half of the Cavs' 132-113 Game 2 loss to the Golden State Warriors in the NBA Finals on Sunday and required intravenous fluids after the game, a team source told ESPN.
Even with the cramping, Shumpert's play, coupled with JR Smith's disappearing act in the series thus far, has the Cavs considering a lineup change at shooting guard for Game 3, the source said.
The Cavs are desperate for help around LeBron James, who has shouldered a huge load. Smith and Tristan Thompson were most noticeably dragging behind, but even Thompson made a couple decent contributions late in Game 2.
Smith shot 0-for-2 with a turnover, making him offensive nonentity.
As his teammates turned up their defense after a dreadful Game 1, Smith couldn't keep up. His awful defense blended in during the opener. Last night, it proved to be the weak link in an improved chain.
At -18 in 14 minutes in Game 2, Smith joined a dreadful group: Players whose teams were outscored by at least one point per minute with them on the court in an NBA Finals game. Here's the full club since 1997 (as far back as Basketball-Reference records go) displayed by plus-minus per 48 minutes: