OAKLAND — The Finals did not shake Klay Thompson out of his shooting slump. In Game 1 he was 3-of-13 from the field for six points and he missed all five of his attempts from beyond the arc.
Nobody on the Warriors much cares — and not just because they won Game 1 in a rout anyway. It's because Thompson is doing what every coach from YMCA youth leagues up through the NBA preaches — if you're not scoring points, contribute in other ways. For Thompson, that is defense: Cleveland players guarded by Thompson shot 1-of-12 in Game 1, according to ESPN.
Thompson himself will take that tradeoff.
"If I score six points a game and it gets us four wins and an NBA championship, I can do that every year," Thompson said.
His shooting slump goes back to the San Antonio series, and even beyond. Thompson is shooting 29 percent over his last five games. The best way to understand it is to look at his shot chart from the last five games.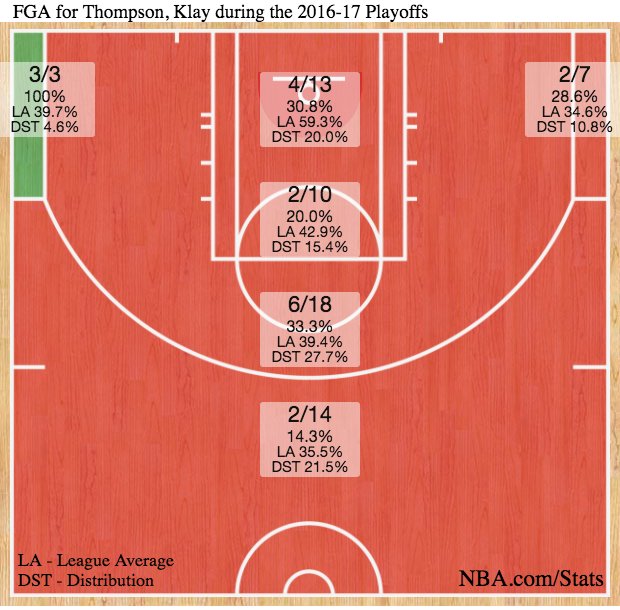 A lot of fans want to attribute the struggles to the fact Kevin Durant is now on the team, so Thompson has slid down the offensive pecking order in Golden State. Nobody with the team is buying that.
"He averaged more points this year than last year, he averaged more shots, so I think we always look at the last game or the last week, but I don't feel the need to overreact to any of it," Warriors GM Bob Myers said. "I told him to have fun, it's the NBA Finals…
"He's a great shooter. It's like a hitter with a great swing, they're gonna start hitting. I'd tell him don't change anything, just keep doing what you're doing."
Thompson is doing just that. He was asked how his approach to Game 2 will differ from Game 1.
"Same one I had Game 1 — just be aggressive, don't settle for good shots but hunt for great shots," Thompson said. "Try to get a few quick ones early; that always helps. That's about it. Just play hard and I'll be fine."
When Thompson missed a couple he would normally make to start a game, he starts to hunt twos at times and takes more difficult ones than he needs. He's a shooter, trying to shoot his way out of the slump. But the Warriors can live with that because of everything else he brings to the court.
"Well, if he's not making shots, he's still a respected shooter and nobody's going to give him open shots if he starts to miss," Kevin Durant said. "So we know the gravity he pulls when he's out there, and his movement off of the ball is one of the main reasons why we're a good team. And his defense is the reason why we're one of the best defensive teams in the league as well."
"The most important thing is the way he's defending," Draymond Green said. "We have enough guys who can score on this team that if one guy can't get it going, we can go other places. Then our ball movement and our flow allows everyone else to get baskets as well. We're not just going to say, `Oh, man, we really need to get Klay going."'
The Cavaliers should be worried if Thompson gets going — on a team loaded with some of the greatest shooters in the game, nobody gets as white hot for a quarter or a half as Thompson. He is capable of insane numbers.
"He's very competitive, but he doesn't show it like Draymond shows it," Myers said. "His personality is to hold himself to a high standard, he's kind of a perfectionist, but at the same time his perfection is he wants to play well for his teammates… his demeanor is he just wants to win, but he wants to do well, everyobody does.
"I think he's focused more on our record than his own statistics. I know he wants to do better, but we're not really worried about it."
"Well, it is easy to overlook my shooting woes when we have been winning like this," Thompson said. "So if we keep this up, it's great, I can live with this all day. But I'm such a perfectionist, I try to hold myself to such a high standard that, as a competitor, sometimes it does drive you a little to the edge to be better. But you just have to keep everything in front of you."