The day after Cleveland won the 2016 NBA title, the Warriors were favored to win in 2017.
And then they signed Kevin Durant.
Golden State became favored against the field, a recognition not bestowed on any team since Michael Jordan's Bulls.
Durant leaving the Western Conference's second-best team for a 73-win juggernaut tipped the scales in a way that made many uncomfortable. A Warriors title felt preordained before the season began.
This wasn't the first time people felt a super team would destroy competitive balance. But the howling about Golden State might have been the loudest. Warriors fatigue was just setting in with every Draymond Green nut kick, every brag. And then Durant joined a team that already won a title, reached consecutive Finals and set the regular-season wins record with Stephen Curry, Klay Thompson and Green.
Expectations were so high, fans – and maybe even some owners – resented Golden State for tipping the scales too greatly. The Warriors, especially Durant, became villains.
Now, Golden State enters the Finals on the verge of winning a championship, usually the final step to silencing critics. But in this case, that might prove them right.
The Warriors are in a no-win situation. If they lose to Cleveland in the Finals, many will dance on their grave. If they win, many will dismiss their title as product of a stacked deck.
Personally, I find the latter criticism unfair. Every championship is earned – some more than others, but no team is just handed a title. Golden State drafted and developed Curry, Green and Thompson. The Warriors earned Durant's services by creating such an appealing environment, he chose it despite knowing he'd receive immense backlash. Even with this loaded roster, a championship wasn't guaranteed. It can be difficult for multiple stars to mesh, and Golden State had major financial constraints to add supporting centers. Credit the Warriors for luring Zaza Pachulia and David West and rehabilitating JaVale McGee.
Really, credit the Warriors for making this look so easy when it's really not.
But I know that argument won't convince many – especially considering how the playoffs have gone.
Golden State beat the Trail Blazers without Jusuf Nurkic, the Jazz mostly without George Hill and, in the biggest "what if?", the Spurs only after Kawhi Leonard got hurt. Everything aligned for the Warriors to cruise through the Western Conference, which never looked like the stiffest challenge in the first place.
Yet, is there a way they can dominate enough to offset the competition imbalance and convince the masses of their greatness?
Golden State went 67-15 in the regular season, ranking No. 1 offensively and No. 2 defensively. The Warriors' playoff run to the Finals set records for record (12-0) and point difference per game (+16.3).
Golden State's combined winning percentage between the regular season and playoffs (84%) ranks second all time behind only the 1995-96 Bulls (87%). The Warriors would remain No. 2 by sweeping the Cavaliers or winning in five.
Here are the top teams by combined winning percentage (regular-season, playoff records in parentheses), with Golden State's current place and possible finishes based on Finals record: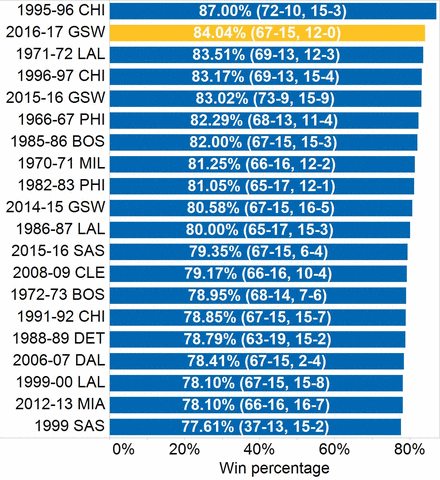 Obviously, nobody would hail the Warriors as an all-time team if they lose in the Finals, but their combined record would still be elite if they got swept. That says something about their greatness to this point.
Golden State is also in striking distance of the best point difference, regular season and playoffs combined, of all-time. The Warriors (+12.23) rank second to the 1970-71 Bucks (+12.58).
Here are the all-time leaders in combined point difference (regular-season, playoff records in parentheses):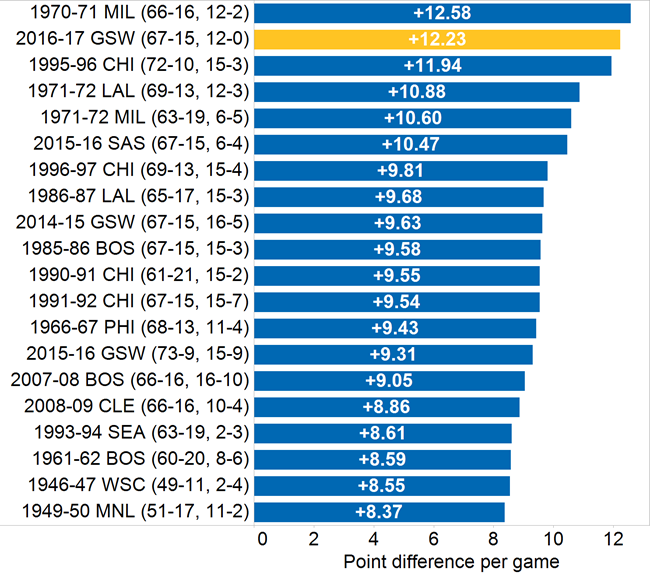 Here's how many points the Warriors would need to outscore the Cavs by to pass the 1970-71 Bucks, by series length:
Four games: 84 (21.0 per game)
Five games: 96 (19.2 per game)
Six games: 109 (18.2 per game)
Seven games: 121 (17.3 per game)
The odds are against dominating Cleveland that way, but if the Warriors do it, how could we deny them?
Golden State could drop a game to the Cavs, and 16-1 would still be the best postseason record of all-time. Maybe the 2001 Lakers (15-1) and/or 1983 76ers (12-1) could have done that in the current playoff format. But the Warriors have an opportunity to actually do it (as do the 12-1 Cavs, for what it's worth).
The question remains: Would anyone outside Golden State's own fans appreciate it?
The best thing that happened to LeBron James' reputation was losing his first year in Miami and of his second stint in Cleveland. That showed his titles were earned, not the forgone conclusion of manipulated super teams.
Perhaps, consecutive championships, including one this year, would achieve similar recognition. But that wouldn't persuade those who view the Warriors as invincible.
Oddly, and I'd argue unfairly, the best thing for the Warriors legacy might be losing this season then winning a future season. We need proof they're fallible before we can treasure their accomplishments.