The Warriors cruised into the NBA Finals in historic fashion, going 12-0 in the first three rounds and outscoring opponents by 16.3 points per game. The Cavaliers (12-1, +13.6) weren't too far behind.
But, at 24-1, they don't have the best combined playoff win percentage by NBA Finalists.
In 1957, the Celtics (3-0) and St. Louis Hawks (5-0) were undefeated entering a series Boston won in seven.
The Hawks, Minneapolis Lakers and Fort Wayne Pistons all went 34-48 in the regular season to tie for the Eastern Division crown. St. Louis won a tiebreaker against each team and advanced to the Western Division finals, beating Minneapolis, 3-0.
Meanwhile, the Celtics won the Eastern Division outright and received a bye to the divisions finals. They swept the Syracuse Nationals to reach the NBA Finals.
Obviously, three rounds present a much bigger hill to climb than a single series (even with a couple tiebreaker games). Golden State and Cleveland are unmatched in modern times.
Here's every NBA Finals sorted by combined playoff record entering Finals: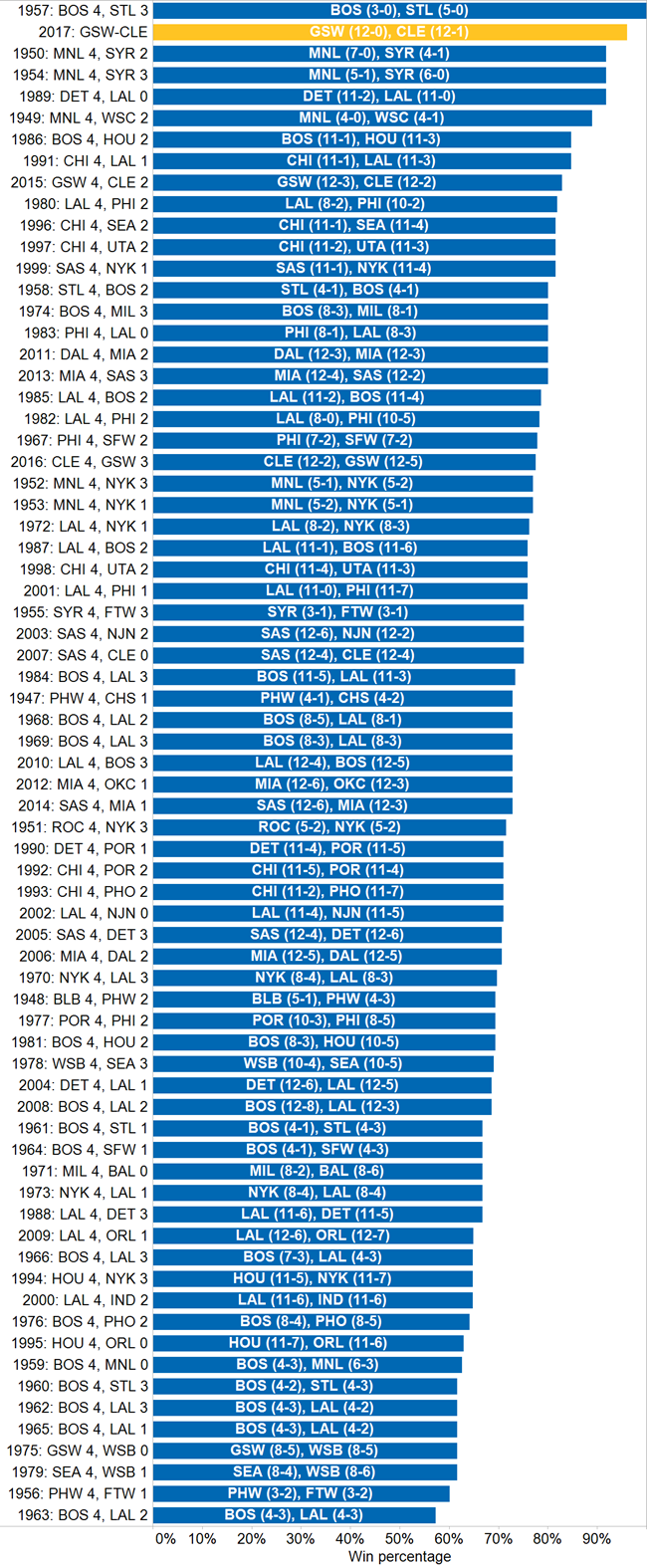 Combined point difference per playoff game really shows how much Golden State and Cleveland overwhelmed their conference foes.
The Warriors and Cavs have averaged a +15.0 point difference per game in the playoffs (averaging both teams' point difference per game equally, so as not to weigh the lesser team more). In the next-best Finals, 1986, neither the Celtics (+12.4) nor Rockets (+8.1) hit that mark alone – let alone averaged.
Here's every NBA Finals, sorted by the teams' average point difference per game in previous playoff games: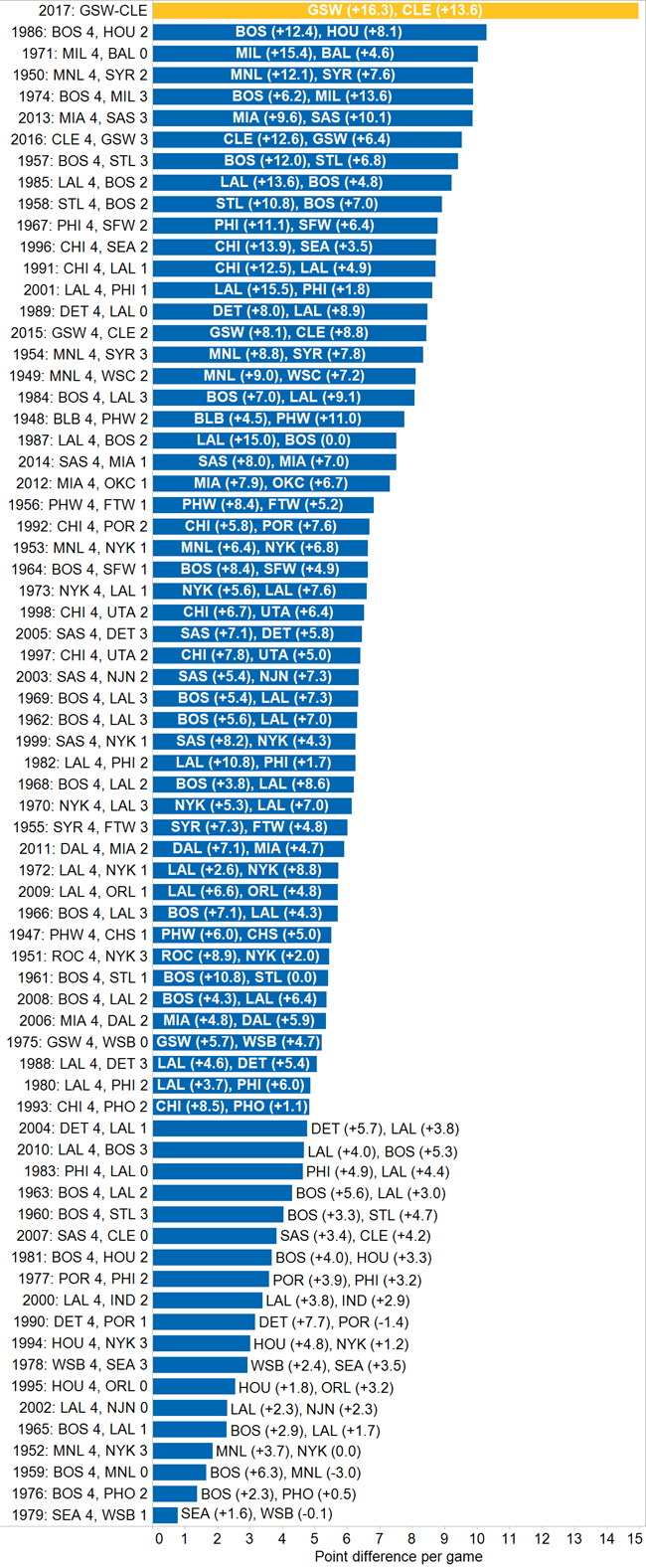 | | | |
| --- | --- | --- |
| Finals | Point differences | Combined |
| 2017: GSW-CLE | GSW (+16.3), CLE (+13.6) | +15.0 |
| 1986: BOS 4, HOU 2 | BOS (+12.4), HOU (+8.1) | +10.3 |
| 1971: MIL 4, BAL 0 | MIL (+15.4), BAL (+4.6) | +10.0 |
| 1950: MNL 4, SYR 2 | MNL (+12.1), SYR (+7.6) | +9.9 |
| 1974: BOS 4, MIL 3 | BOS (+6.2), MIL (+13.6) | +9.9 |
| 2013: MIA 4, SAS 3 | MIA (+9.6), SAS (+10.1) | +9.9 |
| 2016: CLE 4, GSW 3 | CLE (+12.6), GSW (+6.4) | +9.5 |
| 1957: BOS 4, STL 3 | BOS (+12.0), STL (+6.8) | +9.4 |
| 1985: LAL 4, BOS 2 | LAL (+13.6), BOS (+4.8) | +9.2 |
| 1958: STL 4, BOS 2 | STL (+10.8), BOS (+7.0) | +8.9 |
| 1967: PHI 4, SFW 2 | PHI (+11.1), SFW (+6.4) | +8.8 |
| 1996: CHI 4, SEA 2 | CHI (+13.9), SEA (+3.5) | +8.7 |
| 1991: CHI 4, LAL 1 | CHI (+12.5), LAL (+4.9) | +8.7 |
| 2001: LAL 4, PHI 1 | LAL (+15.5), PHI (+1.8) | +8.6 |
| 1989: DET 4, LAL 0 | DET (+8.0), LAL (+8.9) | +8.5 |
| 2015: GSW 4, CLE 2 | GSW (+8.1), CLE (+8.8) | +8.4 |
| 1954: MNL 4, SYR 3 | MNL (+8.8), SYR (+7.8) | +8.3 |
| 1949: MNL 4, WSC 2 | MNL (+9.0), WSC (+7.2) | +8.1 |
| 1984: BOS 4, LAL 3 | BOS (+7.0), LAL (+9.1) | +8.1 |
| 1948: BLB 4, PHW 2 | BLB (+4.5), PHW (+11.0) | +7.8 |
| 2014: SAS 4, MIA 1 | SAS (+8.0), MIA (+7.0) | +7.5 |
| 1987: LAL 4, BOS 2 | LAL (+15.0), BOS (0.0) | +7.5 |
| 2012: MIA 4, OKC 1 | MIA (+7.9), OKC (+6.7) | +7.3 |
| 1956: PHW 4, FTW 1 | PHW (+8.4), FTW (+5.2) | +6.8 |
| 1992: CHI 4, POR 2 | CHI (+5.8), POR (+7.6) | +6.7 |
| 1953: MNL 4, NYK 1 | MNL (+6.4), NYK (+6.8) | +6.6 |
| 1964: BOS 4, SFW 1 | BOS (+8.4), SFW (+4.9) | +6.6 |
| 1973: NYK 4, LAL 1 | NYK (+5.6), LAL (+7.6) | +6.6 |
| 1998: CHI 4, UTA 2 | CHI (+6.7), UTA (+6.4) | +6.5 |
| 2005: SAS 4, DET 3 | SAS (+7.1), DET (+5.8) | +6.4 |
| 1997: CHI 4, UTA 2 | CHI (+7.8), UTA (+5.0) | +6.4 |
| 2003: SAS 4, NJN 2 | SAS (+5.4), NJN (+7.3) | +6.3 |
| 1969: BOS 4, LAL 3 | BOS (+5.4), LAL (+7.3) | +6.3 |
| 1962: BOS 4, LAL 3 | BOS (+5.6), LAL (+7.0) | +6.3 |
| 1999: SAS 4, NYK 1 | SAS (+8.2), NYK (+4.3) | +6.3 |
| 1982: LAL 4, PHI 2 | LAL (+10.8), PHI (+1.7) | +6.2 |
| 1968: BOS 4, LAL 2 | BOS (+3.8), LAL (+8.6) | +6.2 |
| 1970: NYK 4, LAL 3 | NYK (+5.3), LAL (+7.0) | +6.1 |
| 1955: SYR 4, FTW 3 | SYR (+7.3), FTW (+4.8) | +6.0 |
| 2011: DAL 4, MIA 2 | DAL (+7.1), MIA (+4.7) | +5.9 |
| 1972: LAL 4, NYK 1 | LAL (+2.6), NYK (+8.8) | +5.7 |
| 2009: LAL 4, ORL 1 | LAL (+6.6), ORL (+4.8) | +5.7 |
| 1966: BOS 4, LAL 3 | BOS (+7.1), LAL (+4.3) | +5.7 |
| 1947: PHW 4, CHS 1 | PHW (+6.0), CHS (+5.0) | +5.5 |
| 1951: ROC 4, NYK 3 | ROC (+8.9), NYK (+2.0) | +5.4 |
| 1961: BOS 4, STL 1 | BOS (+10.8), STL (0.0) | +5.4 |
| 2008: BOS 4, LAL 2 | BOS (+4.3), LAL (+6.4) | +5.4 |
| 2006: MIA 4, DAL 2 | MIA (+4.8), DAL (+5.9) | +5.3 |
| 1975: GSW 4, WSB 0 | GSW (+5.7), WSB (+4.7) | +5.2 |
| 1988: LAL 4, DET 3 | LAL (+4.6), DET (+5.4) | +5.0 |
| 1980: LAL 4, PHI 2 | LAL (+3.7), PHI (+6.0) | +4.9 |
| 1993: CHI 4, PHO 2 | CHI (+8.5), PHO (+1.1) | +4.8 |
| 2004: DET 4, LAL 1 | DET (+5.7), LAL (+3.8) | +4.7 |
| 2010: LAL 4, BOS 3 | LAL (+4.0), BOS (+5.3) | +4.6 |
| 1983: PHI 4, LAL 0 | PHI (+4.9), LAL (+4.4) | +4.6 |
| 1963: BOS 4, LAL 2 | BOS (+5.6), LAL (+3.0) | +4.3 |
| 1960: BOS 4, STL 3 | BOS (+3.3), STL (+4.7) | +4.0 |
| 2007: SAS 4, CLE 0 | SAS (+3.4), CLE (+4.2) | +3.8 |
| 1981: BOS 4, HOU 2 | BOS (+4.0), HOU (+3.3) | +3.7 |
| 1977: POR 4, PHI 2 | POR (+3.9), PHI (+3.2) | +3.6 |
| 2000: LAL 4, IND 2 | LAL (+3.8), IND (+2.9) | +3.4 |
| 1990: DET 4, POR 1 | DET (+7.7), POR (-1.4) | +3.1 |
| 1994: HOU 4, NYK 3 | HOU (+4.8), NYK (+1.2) | +3.0 |
| 1978: WSB 4, SEA 3 | WSB (+2.4), SEA (+3.5) | +2.9 |
| 1995: HOU 4, ORL 0 | HOU (+1.8), ORL (+3.2) | +2.5 |
| 2002: LAL 4, NJN 0 | LAL (+2.3), NJN (+2.3) | +2.3 |
| 1965: BOS 4, LAL 1 | BOS (+2.9), LAL (+1.7) | +2.3 |
| 1952: MNL 4, NYK 3 | MNL (+3.7), NYK (0.0) | +1.8 |
| 1959: BOS 4, MNL 0 | BOS (+6.3), MNL (-3.0) | +1.6 |
| 1976: BOS 4, PHO 2 | BOS (+2.3), PHO (+0.5) | +1.4 |
| 1979: SEA 4, WSB 1 | SEA (+1.6), WSB (-0.1) | +0.8 |