The NBA Finals so many wanted to see – Cavaliers-Warriors III – is here.
At least it will be.
Today is the first of six off days before the 2017, which begin June 1 in Oakland.
The lengthy delay is the product of an underwhelming postseason featuring few competitive series and numerous blowouts.
Golden State swept its way through the West, and Cleveland dropped only one game (to the Celtics in the conference finals) while winning the East. There have been only two Game 7s, but considering the magnitude, neither felt that compelling. Blake Griffin's injury undercut the Clippers against the Jazz, and Celtics over Wizards felt inevitable with home teams winning each game of the series. Between, there have been several lackluster games and series.
There have been just 74 playoff games this year – the fewest before the Finals since since the NBA instituted a best-of-seven first round in 2003: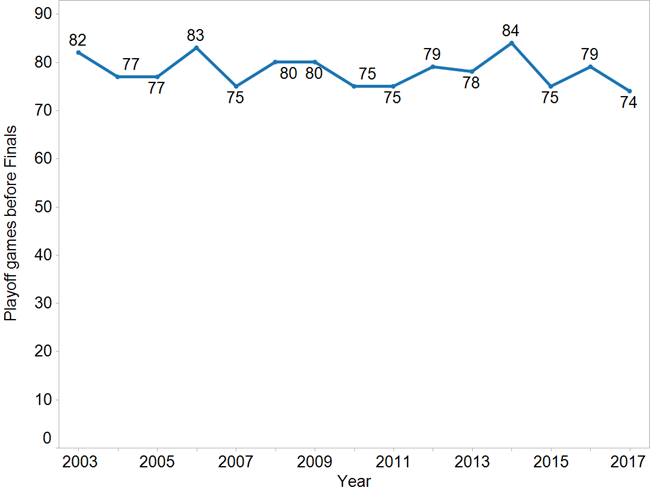 That's 74 of a possible 98 games – 76%, the lowest since 1999 and seventh-lowest ever.
Even if the Finals go seven games, it will be the fewest games in a postseason since 2007. If the Finals go five or fewer games, it'll be the shortest postseason in this playoff format.
And it hasn't just been quantity. The quality of games has been lacking, too.
Though there were more blowouts last year by nearly any measure, the 2017 postseason's average margin in pre-Finals games (13.5) is fifth-highest all-time and second-highest since 1959 (behind 2016, 14.2).
Combine the two factors, and these are the drabbest playoffs in nearly 50 years. Here's each postseason plotted by average margin in pre-Finals games and percentage of possible games pre-Finals:
This probably just confirms what you've seen: The 2017 playoffs have been in a rut.
We're all counting on the Cavaliers and Warriors to salvage this postseason, but considering how deep the hole is, anything less than an epic Finals probably won't cut it.