Moses Malone famously predicted the 76ers team would go ""Fo', Fo', Fo'" in the 1983 playoffs, sweeping all three rounds in four games. Philadelphia didn't quite do it – sweeping the Knicks, beating the Bucks in five then sweeping the Lakers for the title.
Thirty-four years later, an NBA team went ""Fo', Fo', Fo'" for the first time.
Golden State swept the Trail Blazers, Jazz and Spurs in four-game series. But with an extra playoff round, the Warriors' 12-0 run merely gets them to the Finals.
It's the ninth undefeated run to the Finals, third since the league adopted four playoff rounds in 1984 and first since the first round became best-of-seven. The Lakers went 11-0 in the playoffs en route to the Finals in 2001 and 1989.
By winning an extra game and outscoring opponents by 16.3 points per game, Golden State now claims the most dominant postseason run to the NBA Finals ever.
Here are the top paths to the Finals, with Finals results, by playoff…
Record (point difference per game in parentheses):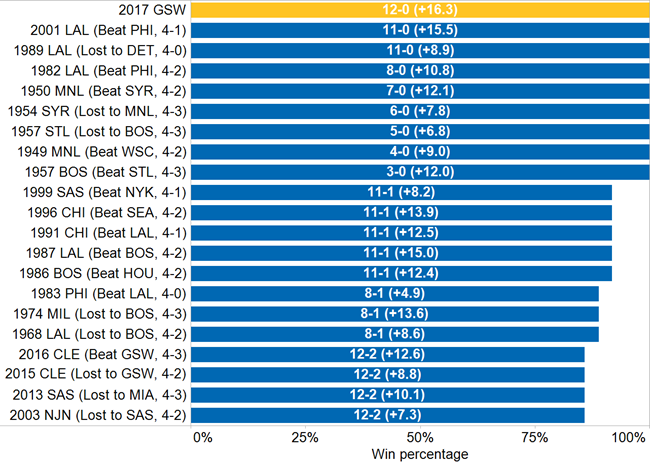 Point difference per game (record in parentheses):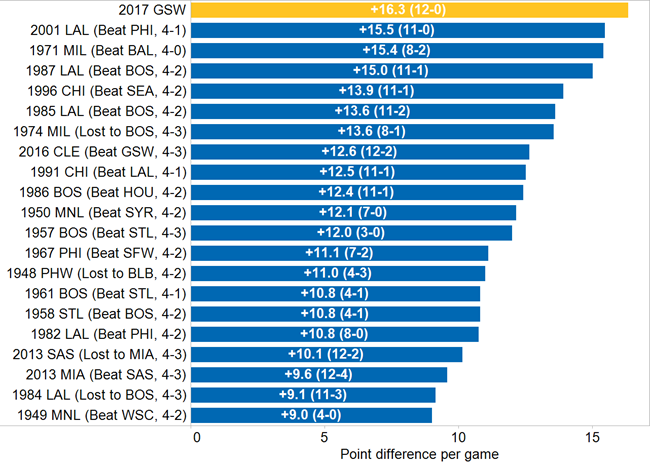 This doesn't guarantee Golden State a championship. The Cavaliers (10-1, +11.9) are on track for an elite run to the Finals themselves, and they have LeBron James.
But the Warriors put ridiculous expectations on themselves by signing Kevin Durant to join a 73-win team featuring Stephen Curry, Draymond Green and Klay Thompson. I'm unsure a Golden State title this year will be properly appreciated, but so far, the Warriors are doing all they can to clear a bar set unreasonably high.