Eight days ago, we didn't know whether Kawhi Leonard – who injured his ankle when Zaza Pachulia slid under his jumper – would play again this postseason.
But as a frustrated Gregg Popovich ranted about Pachulia's dirtiness, I suspect the Spurs coach knew. I think Popovich knew, after years of anticipating a playoff matchup with the high-octane Warriors, Leonard's injury had robbed San Antonio of a competitive conference finals – and maybe a championship.
The Spurs led Game 1 by 23 when Leonard got hurt. He never returned, and San Antonio blew its opening-game lead then lost Games 2-4 by 36, 12 and 14. None of the final three games were competitive down the stretch.
In all, the Spurs outscored Golden State by 21 in Leonard's 23 minutes and got outscored by 85 otherwise.
The Warriors advance to their third straight NBA Finals. San Antonio is left wondering, what if?
Popovich's Spurs have beaten nearly every highly touted team to come along during his reign as coach – the Chris Webber/Vlade Divac/Mike Bibby/Peja Stojakovic Kings, Shaquille O'Neal/Kobe Bryant Lakers, Goin' To Work Pistons, Steve Nash/Mike D'Antoni Suns, LeBron James Cavaliers, Dirk Nowitzki Mavericks, Kevin Durant/Russell Westbrook Thunder, LeBron/Dwyane Wade/Chris Bosh Heat.
But these Warriors escaped San Antonio. The Spurs beat Golden State in the 2013 second round, but that wasn't the same team. Those Warriors hadn't started Draymond Green, signed Andre Iguodala or hired Steve Kerr – three people integral to Golden State's identity. And of course, the Warriors hadn't signed Kevin Durant, who turned this year's squad into possible the greatest super team of all time.
At the same time, San Antonio was loading up. The Spurs were the second-best regular-season team over the last three years behind Golden State, but the teams didn't meet in the playoffs.
Despite having the NBA's third-best net rating, San Antonio had to face the Clippers (NBA's second-best net rating) in the 2015 first round thanks to conference imbalance and a since-changed seeding system for division winners. The Clippers won a hard-fought seven-game series.
In 2016, the Spurs had an even higher net rating than Golden State, which went 73-9. But they ran into the Thunder, whose athleticism buzz-sawed them and nearly toppled the Warriors.
This year was San Antonio's chance.
The Spurs showed an ability to adjust to spread attacks while topping the Rockets in the second round. In its next-level challenge, San Antonio – behind Leonard's 26 points on 13 shots, eight rebounds and three assists – dominated early.
But as soon as Leonard went down, the entire series turned.
The Spurs outscored Golden State by 42 points per 48 minutes with Leonard and got outscored by 24 points per 48 minutes without him – one of the greatest disparities in a playoff series this era.
Here are all the series where a team performed at least 60 points better per 48 minutes with a certain player on the court rather than off since 2001, which is as far back as Basketball-Reference records go (requiring more than 10 minutes played, as to eliminate extreme garbage-time examples):
Left: Point difference per 48 minutes with player off
Right: Left: Point difference per 48 minutes with player on
Center: Difference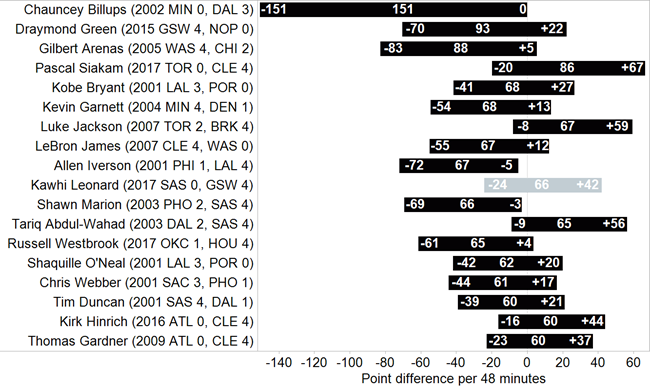 Raw totals:
| | | |
| --- | --- | --- |
| Player | On | Off |
| Chauncey Billups (2002 MIN 0, DAL 3) | 0 in 134 min. | -32 in 10 min. |
| Draymond Green (2015 GSW 4, NOP 0) | +77 in 166 min. | -45 in 31 min. |
| Gilbert Arenas (2005 WAS 4, CHI 2) | +31 in 276 min. | -20 in 12 min. |
| Pascal Siakam (2017 TOR 0, CLE 4) | +14 in 10 min. | -75 in 182 min. |
| Kobe Bryant (2001 LAL 3, POR 0) | +66 in 119 min. | -22 in 26 min. |
| Kevin Garnett (2004 MIN 4, DEN 1) | +58 in 206 min. | -38 in 34 min. |
| Luke Jackson (2007 TOR 2, BRK 4) | +14 in 11 min. | -46 in 277 min. |
| LeBron James (2007 CLE 4, WAS 0) | +47 in 182 min. | -12 in 11 min. |
| Allen Iverson (2001 PHI 1, LAL 4) | -25 in 239 min. | -9 in 6 min. |
| Kawhi Leonard (2017 SAS 0, GSW 4) | +21 in 24 min. | -85 in 168 min. |
| Shawn Marion (2003 PHO 2, SAS 4) | -17 in 283 min. | -15 in 10 min. |
| Tariq Abdul-Wahad (2003 DAL 2, SAS 4) | +19 in 16 min. | -49 in 272 min. |
| Russell Westbrook (2017 OKC 1, HOU 4) | +15 in 195 min. | -58 in 46 min. |
| Shaquille O'Neal (2001 LAL 3, POR 0) | +55 in 131 min. | -11 in 13 min. |
| Chris Webber (2001 SAC 3, PHO 1) | +59 in 169 min. | -21 in 23 min. |
| Tim Duncan (2001 SAS 4, DAL 1) | +89 in 202 min. | -31 in 38 min. |
| Kirk Hinrich (2016 ATL 0, CLE 4) | +11 in 12 min. | -61 in 180 min. |
| Thomas Gardner (2009 ATL 0, CLE 4) | +12 in 16 min. | -84 in 177 min. |
This list is essentially divided into three groups:
Bench-warmers who played a few good minutes while their team got torched throughout the series. Pascal Siakam, Luke Jackson, Tariq Abdul-Wahad, Kirk Hinrich and Thomas Gardner fit this category.
Stars who dominated while on the court and saw their teams torched when they sat. For example, in the massive leader in this stat, the Timberwolves played the Mavericks even in the 2002 first round with Chauncey Billups on the court. But Minnesota got outscored by 32 in the 10 minutes Billups sat the entire series and got swept. (Billups was starting for an injured Terrell Brandon, so Robert Pack got pressed into duty behind Billups.)
Kawhi Leonard. Every other star played a high majority of his teams' minutes, essentially as much as he could handle. Then, his team just hoped to hang on in the star's brief breathers. Leonard was stuck on the bench nearly the entire series, watching the the Spurs look helpless after he led them to a commanding advantage.
To be fair, San Antonio wouldn't have necessarily won with Leonard.
Golden State was better than the Spurs throughout the season, and the lopsided start was a small sample. Simple regression to the mean could have tilted the series.
Also, the Warriors are at their best with Draymond Green at center, and they used that lineup just 11 seconds before Leonard's injury. In 59 minutes with Green at center in the series, Golden State posted offensive/defensive/net ratings of 123.9/90.3/+33.5. If they needed to lean on those lineups more to beat a Leonard-led Spurs, they could have.
Yet, I can't stop wondering what would have happened if Leonard stayed healthy.
The question towers over the last great playoff-injury fascination – whether the Cavaliers would have won the 2015 Finals if Kevin Love and Kyrie Irving were healthy.
I contend no. The Warriors were better than Cleveland overall each of the last two years, and they were a stylistic problem for the Cavs – especially Love and especially in 2015. The Cavaliers winning in 2016 adds doubt, but Stephen Curry was hobbled and Draymond Green got suspended for a game. A hungrier and more available 2015 Golden State team was more primed to win than the 2016 edition that lost to Cleveland.
Perhaps, a 2017 Finals rubber match will inform my opinion how Love's and Irving's injuries affected the 2015 NBA championship. For now, I'm sticking with the Warriors winning anyway.
But with Leonard's injury in this year's conference finals, I just don't have a feel for whether the Spurs would have prevailed.
And that's the most frustrating part.