All-NBA voters just pushed Gordon Hayward into free agency.
There was a narrow path to Hayward exercising his $16,736,710 player option with the Jazz for next season, but that's out the window with Hayward missing this season's All-NBA teams. Not eligible for a designated-veteran-player extension this offseason, Hayward is a virtual certainty to opt out and hit unrestricted free agency, where he could command a max deal projected to start at more than $30 million.
Because Hayward has played just seven seasons, he would have had to opt in to be eligible for a designated-veteran-player extension. But Hayward making an All-NBA team was another requirement of the super max deal – projected to pay $224 million over the next six years, including the option year – so there's no good reason to opt in.
Here's how much Hayward could have earned with a designated-veteran-player extension (green) or can earn by re-signing (yellow) or signing elsewhere (blue):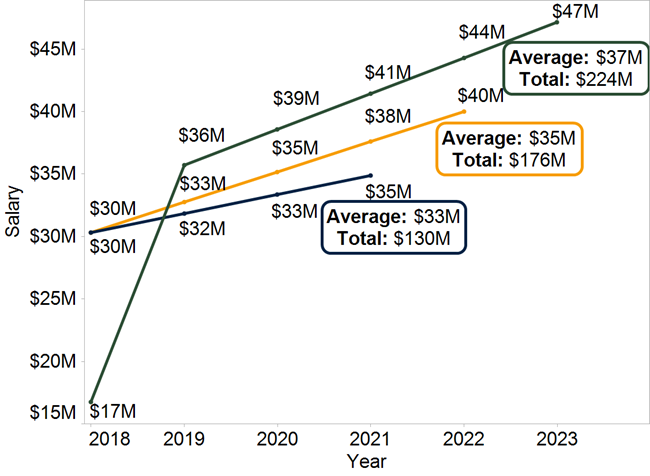 Hayward, coming off a career year, will have an abundance of good options available.
The Jazz, who beat the Clippers in the first round, have an impressive young core centered around Rudy Gobert. Keeping Hayward and George Hill could make Utah a real threat to win multiple playoff series annually for years to come.
The Celtics – coached by Hayward's former Butler coach, Brad Stevens – are already in the conference finals and just landed the No. 1 pick. As much as the Jazz's breakout 51-win season gives them a selling point to Hayward, Boston's future looks even brighter.
Beyond the two teams to which he's most commonly linked, plenty of other suitors will throw their hats in the ring if Hayward indicates a willingness to look around. Remember, he never picked Utah. The Jazz drafted him then matched an offer sheet he signed with Charlotte during his first free agency.
Hayward could sign a 1+1 deal with Utah, which would allow him to sign a designated-veteran-player contract next year if he makes an All-NBA team next season. That'd be a substantial bet on himself, but the upside his high – an extra $13 million next season plus the same designated-veteran-player rate he could've qualified for if he made All-NBA and opted in this year.
Will the 27-year-old make All-NBA next season? He finished eighth among forwards this year – behind LeBron James (first team), Kawhi Leonard (first team), Giannis Antetokounmpo (second team), Kevin Durant (second team), Draymond Green (third team), Jimmy Butler (third team) and Paul George.
Here's betting Hayward locks into a long-term deal this summer, but where? The Jazz, without the ability to keep Hayward from free agency altogether with a designated-veteran-player extension, will have to sweat it out.