In his first three NBA seasons, Kelly Olynyk scored 20 playoff points.
In the Celtics' Game 7 win over the Wizards last night, he scored 26 points.
The fourth-year Boston forward came off the bench for a career game when his team needed it most. Even if they lose to the Cavaliers in the Eastern Conference finals, the Celtics have clinched a satisfying season by advancing this far – especially in the greater context. Boston is the NBA's youngest conference finalist and possesses the Nets' first-round pick, which will be slotted in tonight's lottery. The Celtics' future is bright.
And thanks in part to Olynyk, their present will avoid major handwringing.
"Kelly was MVP tonight," Isaiah Thomas said. "He did it all."
Olynyk shot 8-for-8 on 2-pointers, using the threat of his 3-pointer to drive. He also kept Washington's defense honest by shooting 2-for-6 from beyond the arc.
Olynyk's 26 points were the most by a reserve in a Game 7 since Leandro Barbosa scored 26 for the Suns against the Lakers in 2006. Here are the top scoring Game 7s by reserves since 1984, when the NBA adopted a 16-team playoff: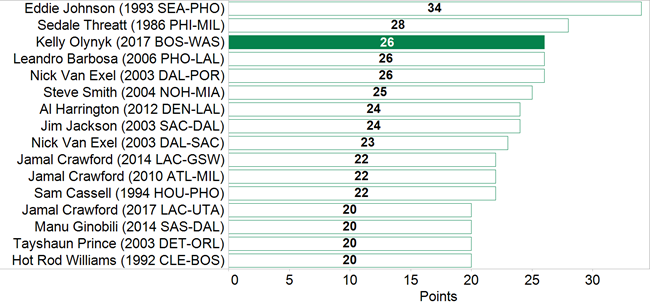 Only Eddie Johnson (34 points for the Seattle SuperSonics against the Suns in 1993) and Sedale Threatt (28 points for the 76ers against the Bucks in 1986) scored more off the bench in a Game 7 in this era. But those performances came in losses. Olynyk aided a win.
His 26 points were also third among reserves in the 2017 postseason. Only Nene (28 points in Rockets-Thunder Game 4) and Joe Johnson (28 points in Jazz-Clippers Game 4) topped Olynyk: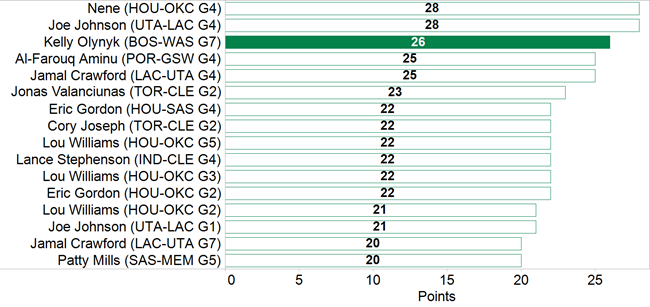 Not a bad impression to leave in a high-pressure situation entering free agency.