Spurs coach Gregg Popovich on Game 1 against the Rockets:
What do I know? We just lost by 50. What are you asking me questions for anyway? Ask somebody that knows something, who can fix this.
After another blowout loss in Game 4, Popovich again addressed reviewing Game 1 film:
You would've traded all the players and fired me by the end of the game. It was that bad.
Good thing San Antonio stuck with this coaching staff and roster.
The Spurs opened their second-round series against Houston with a 27-point loss and ended it with a 39-point win. Between, San Antonio won by 25 and lost by 21.
The six-game series should go down as one of the wildest in NBA history – the Rockets' seemingly pace-defining Game 1 win, the Spurs' blowout Game 6 victory without Kawhi Leonard in Houston and the big back-and-forths between.
The only other series in NBA history where each team won by 20 twice was Pacers-Celtics in the 2005 first round. Indiana won by 27 and 23 and won the series while still allowing Orlando to win by 20 and 31.
But that series lasted seven games. San Antonio and Houston packed all its action into just six.
The 66-point difference between the Spurs' best result (+39 in Game 6) and worst result (-27 in Game 1) was tied for the biggest swing ever in a series. The Cavaliers beat the Wizards by 30 and lost by 36 in the 2008 first round, and the Lakers beat the Nuggets by 44 and lost by 22 in the 1985 conference finals.
Here are the biggest swings between any games in a series, from the perspective of the series victor: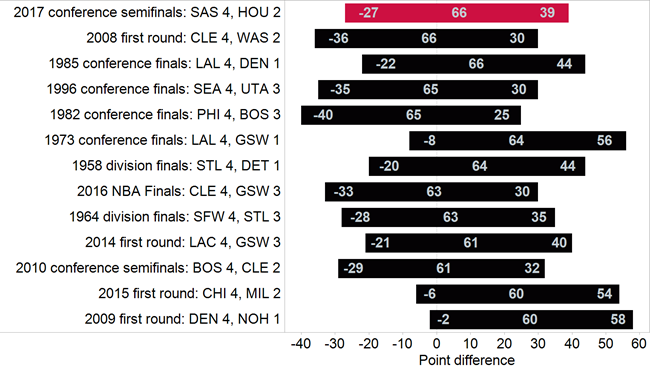 Aside from each team's lopsided victory, every other Cleveland-Washington game in 2008 was decided by single digits. Denver lost every game to the Lakers in 1985 beyond its Game 2 rout.
San Antonio and Houston kept trading haymakers, the Spurs winning Game 2 by 25 and the Rockets winning Game 4 by 21.
Here are the biggest differences between a team's second-biggest win and second-biggest loss in a series, again from the perspective of the series victor: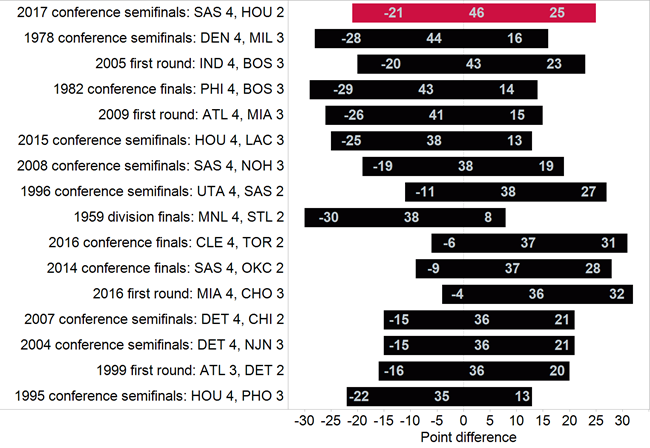 San Antonio-Houston had only one great game, the Spurs' overtime win in Game 5. So, this probably wasn't a great series or even a particularly memorable one (especially if San Antonio gets smashed by the Warriors in the next round).
But Spurs-Rockets sure was extreme, and it should be appreciated for that.