It was the highlight of the Cavaliers clowning the Raptors in Game 1 on Monday: Frustrated after missing layup in transition (he was fouled), LeBron James ran through to the sideline, saw a courtside waitress with a beer, and picked it up off her tray. It looked like J.R. Smith wanted him to take a swig, but LeBron thought better of it.
Turns out that was a Great Lakes Brewing Co. beer, and they know a guerilla marketing opportunity when they see it, so they Tweeted about it (this has since been taken down).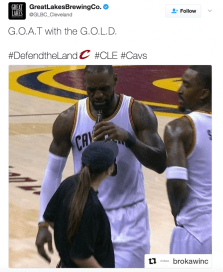 The next day the brewery used an image of LeBron drinking to promote their discounts for the day at their pub.
LeBron isn't simply a basketball player, he is a brand. Nike pays him a lot of money for that brand (as does Sprite and a bunch of other companies). He is understandably protective of his image, and the Great Lakes Brewing Co. doesn't have a sponsorship deal — in fact there is a bad history between him and the company. So LeBron moved to get the brewery to stop using his image. From Joe Varden of the Cleveland Plain Dealer.
James and his associates are upset over Great Lakes Brewing Co.'s use of James likeness to promote Dortmunder Gold and would consider legal action, according to a source close to him….

"This is about the last thing I'm trying to worry about right now, my agent and my legal team will take care of it, but yeah I know (Great Lakes) is trying to benefit off of me," James told cleveland.com. "And I heard they were the same company that made all those 'Quitness' beers, and now they're trying to benefit off me this way? Yeah, it's pretty funny."
No, this isn't as much fun as LeBron playing along with the local beer company, but I get where he's coming from. Can't blame him for protecting the brand — if Great Lakes Brewing can use his image for free, others will try to as well and where does LeBron draw the line?
Now, if we were talking about the Great Lakes Winery and a nice Cabernet…