The Bulls couldn't break free. The Celtics look ready to break out.
Boston beat Chicago 108-97 in Game 5 Wednesday, winning its third straight to take a 3-2 lead in the first-round series. The Celtics pulled away with a 13-0 fourth-quarter run, which was boosted by two Bulls technical fouls – the second on Robin Lopez, who was rightfully aggrieved by an uncalled Jae Crowder leg-lock.
That'll generate more talk about Boston being dirty, especially in the midst of a chippy series. But at least nobody will be discussing the Celtics being a historically weak No. 1 seed, which drowned everything after Chicago won the series' first two games in Boston. The Warriors and Cavaliers are the only other teams to win three straight games this postseason, the type of elite company the Celtics would like to join.
Close the series in Game 6 on Friday, and Boston silences the most extreme criticism of its present.
"We've got to finish it," said Isaiah Thomas, who scored 11 of his 24 points in the fourth quarter. "We know Game 6 is going to be a big game, and they're going to fight for their lives. But we've got to go in there and finish it."
The Celtics became just the third team in the last four years to win three straight after dropping the first two games of a series. The Trail Blazers (vs. Clippers) and Hornets (vs. Heat) did it in last year's first round. Portland advanced. Charlotte didn't.
Overall, here's how teams up 3-2 and facing a road Game 6 in a 2-2-1-1-1 series have fared: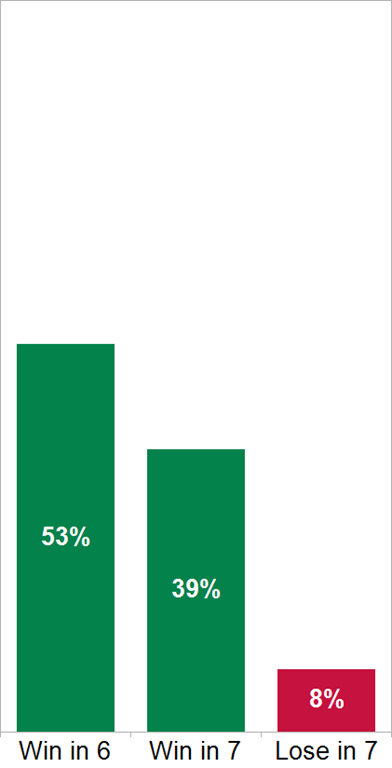 The Celtics' odds of advancing might be even higher than that. Their 11-point win tonight felt like it could have been much more lopsided.
Boston shot just 9-for-40 on 3-pointers (23%), but many of those were good looks and the high volume of attempts bodes well. They were a product of a high-functioning offense, and in the long run, more of those will fall. Only a few franchises – Warriors, Cavaliers, Hawks, Mavericks, Pacers – have ever attempted so many 3s in a playoff game, though nobody had ever shot so inefficiently on so many attempts.
The Celtics more than compensated for their cold outside shooting everywhere else. They shot 29-for-48 on 2-pointers (60%) and and 23-for-23 on free throws (100%), getting high-percentage looks and drawing fouls thanks to their floor spacing.
The Bulls, on the other hand, wasted a throwback game from Dwyane Wade (26 points, 11 rebounds and eight assists). Avery Bradley (24 points on 11-of-19 shooting) tightly defended Jimmy Butler (14 points on 6-of-15 shooting), and that matchup won't get any easier for Butler.
Maybe Butler will answer the call, but Chicago is running out of advantages. Boston even had higher offensive- and defensive-rebounding percentages than Chicago. And Thomas didn't carry anything, even the Celtics to victory.
Boston again looks like the complete team it had been for much of the season.