LOS ANGELES — The Clippers are feeling a lot of pressure these playoffs, and they have suffered a couple tough losses at home now. That can lead to some interesting postgame press conferences, something we've already seen this series from Doc Rivers.
Tuesday it was Chris Paul's turn.
The Clippers had just dropped Game 5 at home and are staring a 3-2 deficit series deficit in the face, and they have to win those two games without the injured Blake Griffin. That's when this exchange happened.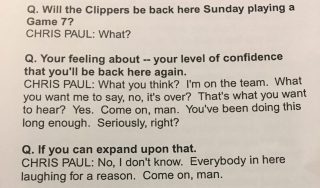 I was in the room with this happened. Yes, there were a lot of eye rolls when the question was asked.
This was not a rookie reporter, it was a guy who gets sound for local radio stations and has been a regular at Staples Center games for years. He knew what he wanted, a fairly standard quote about how the Clippers just need to take it one game at a time but they are confident they will be back, that they can still win the series. We have all heard it before, the kind of generic crap that is all over columns about the game and talk radio. The reporter served up the softball and, frankly, most nights savvy players just give the reporter the quote they want and move on.
Tuesday Paul was having none of it. Which led to a pretty amusing exchange, especially with the follow up that was not going anywhere.
That said, I do not know one reporter worth his or her salt who has not asked a question they regret, and been called out for it. Sometimes we get called out for good questions we do not regret. It is part of the gig.