The Cavaliers entered the playoffs amid massive concern about their championship prospects.
Cleveland has answered those questions while building a 3-0 lead over the Pacers, right?
Hardly.
Despite winning each game in their first-round series, the Cavs have allowed 119.1 points per 100 possessions – the worst defensive rating by a team up 3-0 in a series since the NBA implemented a 16-team playoff in 1984. Here are the worst defensive rating with a 3-0 lead, per Basketball-Reference: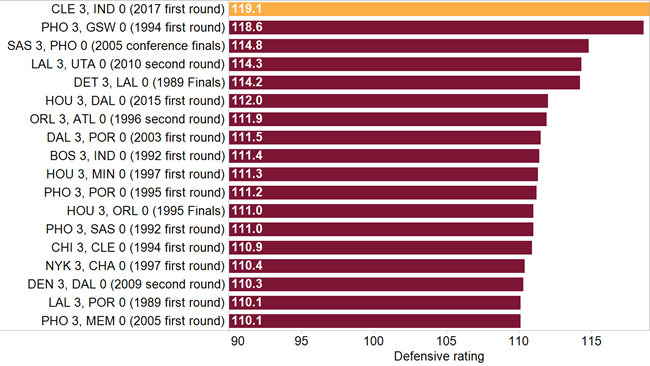 The last 34 teams that allowed as many points per possessions as Cleveland in the first three game of a series were trailing. The last to lead with such a high defensive rating was the 1995 Magic, who allowed 123.8 points per 100 possessions while building a 2-1 advantage over the Pacers in the Eastern Conference finals. Orlando won in seven games.
The Cavaliers are obviously a different story, one game from a sweep.
LeBron James has led a high-octane offense, and Kyrie Irving (by volume) and Kevin Love (by efficiency) have made valuable scoring contributions. Cleveland's supporting cast has also knocked down its open shots. The Cavs have made 15 3-pointers per game at a 44% clip.
That has masked the Cavaliers' very real defensive issues. Indiana is torching Cleveland in the pick-and-roll, frequently leaving the Cavs looking confused about their latest breakdown. And the Pacers, who scored a middling 108.6 points per 100 possessions, are hardly some offensive juggernaut.
The Cavaliers might be suffering from some hot Indiana shooting. Here's betting they defend better the rest of the series.
But there's plenty of room for Cleveland's defense to improve before it's championship-caliber – even if the Cavs are up 3-0.