Russell Westbrook wanted the record — to secure a triple-double for the season and then to get his 42nd triple-double of this season, breaking Oscar Robertson's record.
Westbrook needed just six assists to guarantee he would average a triple-double for the season, and from the start of the game he was clearly hunting them. He got his buckets, but he passed up open looks to try to feed teammates. In the third quarter, Westbrook got his sixth assist.
But as the game wound down, with the Thunder down by around 20 most of the time, Billy Donovan kept Westbrook in to get his 42nd triple-double — Westbrook needed a few more assists, and he was hunting them. He was ignoring good shots to try to get them. Westbrook all but admitted it, but in a NSFW way reminded everyone he was not shooting the ball well so he should pass.
The Phoenix Suns were determined not to let Westbrook get that record on their watch. It was obvious.
Jack Maloney at CBSSports.com had a great breakdown, but if you watch the Suns at the end of the game they dared Westbrook to shoot and tried to take away his passing options. This screen shot from the CBS post best shows how the Suns defended the final plays — Westbrook is left wide open.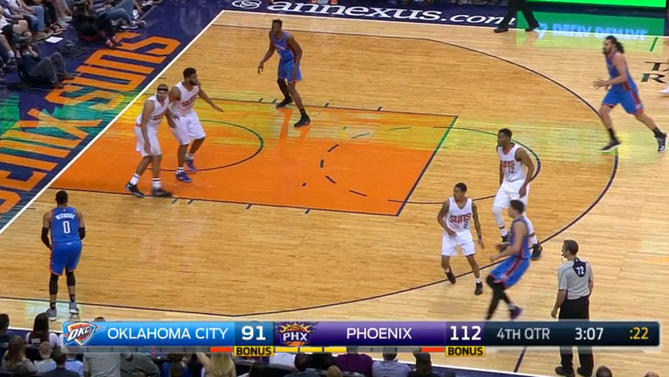 Westbrook passed up the shot to hit a cutting Steven Adams in the paint, and he was fouled before he could shoot, denying any chance at an assist. And so it went every time down, even with the Suns fouling Westbrook and sending him to the line. At 2:34, he basically subbed himself out and accepted the numbers will have to come another day.
Westbrook has three more chances to get his 42nd triple-double. He has hunted some stats all season (usually rebounds), but the fact remains he was close enough to get those triple-doubles, and the Thunder win three-quarters of their games when he gets one, but only a third of their games when he doesn't. He has to put up huge numbers for the Thunder to have a chance.