The Rockets play like a 58-win team with James Harden on the court, and the Thunder play like a 52-win team with Russell Westbrook on the court.
A clear advantage for Harden in the MVP race?
Not quite.
Houston still plays like a 51-win team when Harden sits, and Oklahoma City drops to an 18-win pace without Westbrook. How much should each factor – the level a team reaches with a player, how far it falls without him – matter?
And what about about LeBron James? The Cavaliers play like a 61-win team with him and a 19-win team without him. Don't forget about Kawhi Leonard, either. The Spurs reach a 63-win pace – better than the other three main MVP candidates' teams hit with them on the court – when Leonard plays.
In the NBA's most fascinating MVP race in years, the on-off win pace for the four major candidates adds perspective. To calculate win pace, I used Pythagorean win percentage multiplied by 82, the number of games in a standard NBA schedule.
Here's the Rockets', Thunder's, Cavaliers' and Spurs' win paces with their MVP candidate off (below the bar) and on (above the bar) and the difference (in the bar):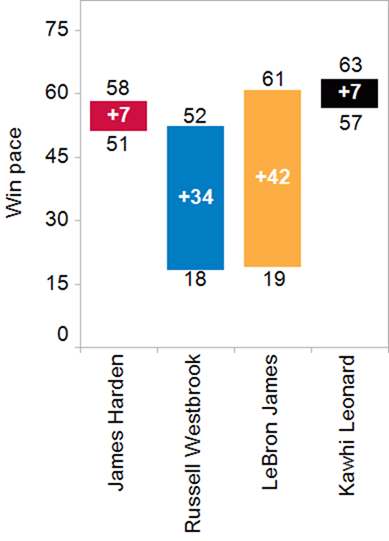 These are rounded to the nearest win. Hence, Leonard's seemingly off, but not actually off, marks.
This is meant to be only one piece of a complex picture. Other things to consider:
Should backups matter? Should rotations matter? Should luck matter?
These are not easy questions, but MVP voters must reconcile them.
I see win pace as a useful reference point when comparing these players with elite individual production. Then, it's about placing the win paces into the appropriate contexts – and going back to individual production, then back to on/off-court impact, then adding adding more context, then…
There's no easy answer here.
There's also no easy choice for fifth on the MVP ballot, but I made a similar chart for the main candidates: