Hawks president/coach Mike Budenholzer has the authority to set the Hawks' priorities.
"Organizationally, fundamentally," Budenholzer said, "transition D is more important than anything."
Dwight Howard challenges that daily.
Howard has already built a Hall of Fame résumé:
Eight-time All-NBA center, including five-time first teamer
Three-time Defensive Player of the Year
Five-time rebounding champ
But the big man is doing something he's never done before: Grab 15.2% of available offensive rebounds.
And he's doing it at age 31 in a league that has increasingly deemphasized offensive rebounding. The NBA will set a record this season for lowest offensive-rebounding percentage for the fourth straight year.
Teams have just figured getting back on defense trumps crashing the offensive glass, the strategy emanating most prominently from the Spurs. Budenholzer, a former San Antonio assistant coach, brought the plan straight to Atlanta. The Hawks ranked 28th, last and last in offensive-rebounding in his first three seasons — in part for philosophical reasons, in part because they've lacked the personnel to do better. They've also been a below-average defensive-rebounding team each season under Budenholzer.
Then Howard signed and forced Budenholzer to adjust.
Atlanta has become an above-average offensive-rebounding team and far better with Howard on the court – a helpful crutch with ace 3-point shooters Kyle Korver and Jeff Teague traded. The Hawks are ceding more transition opportunities, though they remain very good at defending those.
It's an obvious tradeoff, says Stan Van Gundy. The Pistons coach who coached Howard with the Magic sees the center in the rare class of players who deserve full autonomy to chase offensive rebounds.
"You don't limit those guys," Van Gundy said.
Howard has made the most of his freedom to chase rebounds. His 15.2 offensive-rebounding percentage ranks second to only Kenneth Faried among qualified players.
And, again, Howard is 31. Offensive rebounding tends to be a young man's game.
Here's top 10 in offensive rebounding this season, plotted by age: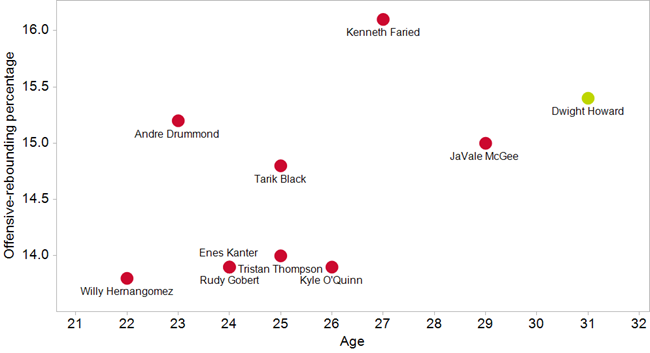 Howard's previous career-high offensive-rebounding percentage was 13.8.
The only other players to set career-high offensive-rebounding rates north of 15% after their age-30 season: Dennis Rodman (20.8% at age 33 with the 1994-95 Spurs) and Alan Henderson (15.6% at age 32 with the 2004-05 Mavericks). Both Rodman (Cooke County Junior College and Southeastern Oklahoma State) and Henderson (Indiana) played four years of college basketball, giving them less wear and tear on their bodies and fewer opportunities to post career highs at a young age.
Howard jumped to the NBA straight from high school.
Yet, he's having a resurgent year in his 13th season. How is he doing it?
"One, I'm not super old," Howard said earlier this season. "Two, my body feels great. I've been doing a lot of stuff to take care of my body."
Known for eating legendary amounts of candy earlier in his career, perhaps Howard has made a breakthrough. His defensive-rebounding percentage (31.8) is the second-best of his career and ranks fourth in the NBA. That has helped him anchor the league's fourth-best defense.
Howard has been subject to widespread criticism, and last season with the Rockets was a low point. This year, Howard has recommitted to the basics: Rebounding, defending, scoring inside.
"He's got a big personality, but I think we all knew that," Budenholzer said. "But it's all in the right place. He wants good things, and I've really enjoyed coaching him."
So much so that Budenholzer has compromised a core basketball tenet for Howard.
And it has proved a worthwhile decision.