LaVar Ball thinks his own inability to play basketball at a high level will make his kids better pro ball players. Or something. It's sort of hard to follow the logic of what Ball said recently Chris Broussard's podcast, but we're going to try to straighten it out.
Speaking with Broussard, Ball mapped out logic that all-time great NBA players almost never have fathers that were more successful than them: Kobe Bryant, Michael Jordan, Stephen Curry.
"The monsters in the NBA, their dads wasn't that good," said Ball.
Ball used this as a jumping off point to say that he felt Cleveland Cavaliers star LeBron James' sons would not be a success in the NBA.
"You got LeBron, it's going to be hard for his kids because they are going to look at them like, 'You got to be just like your dad.' And after a while, that pressure starts sitting on you like, 'Why do I got to be just like him? What can't I just be me?' And then they are going to be like, 'Aw, you're soft, you're not that good.' Because the expectation is very, very high."
If your eyes are rolling at this point, you're not alone.
Meanwhile, that comment didn't sit well with LeBron, who was asked about the comments and responded in kind to ESPN.
"Keep my kids' name out of your mouth, keep my family out of your mouth," James told ESPN on Tuesday, as the Cavaliers practiced on UCLA's campus, two days after a victory at the Lakers.

"This is dad to dad. It's a problem now."
There's no real evidence to suggest LeBron James Jr. or Bryce James will be a success or a failure in the NBA because they are 12 and 9 years old, respectively.
Meanwhile, there's mounting evidence to suggest LaVar Ball is full of it and he knows it. Mostly because as Ball has issued ridiculous statements — like that he would beat Michael Jordan in a game of 1-on-1 — he's been promoting his clothing line.
So you don't have to Google it, it's called Big Baller Brand and it mostly sells ugly sweatshirts: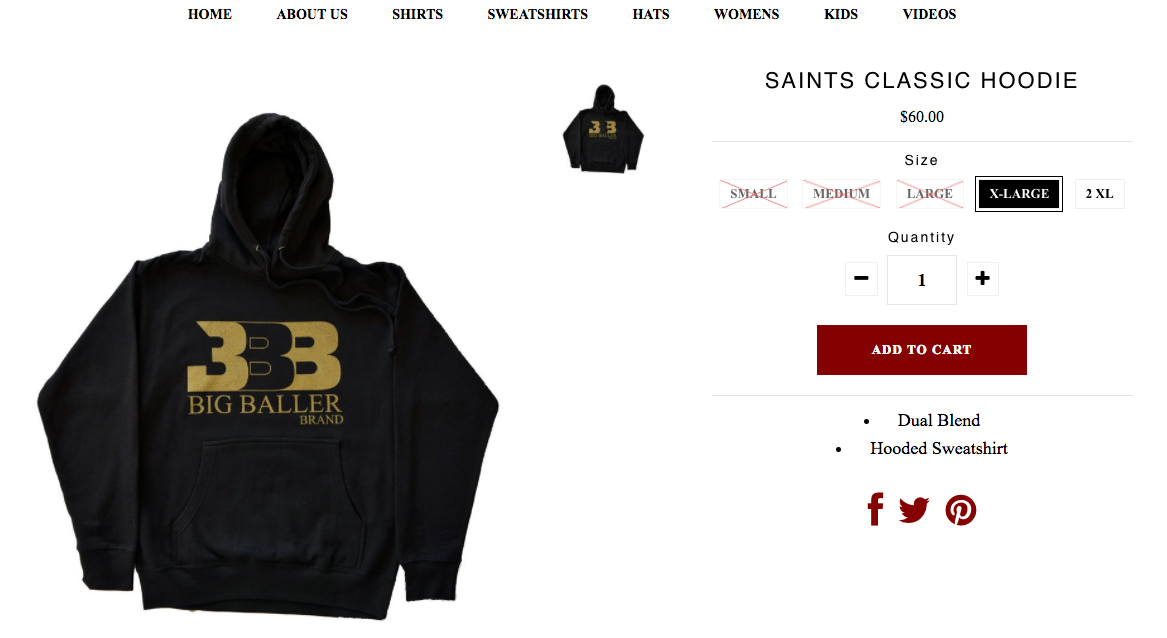 In fact, that's the motivating factor here for just about everything LaVar Ball has said. He's selling boring hoodies at $60 a pop and knows he can earn TV time and boost his SEO ranking for his business by saying ridiculous things.
Of course, it helps that his son Lonzo Ball is slated to be one of the top picks in the upcoming NBA draft. But saying things like you'd beat the greatest player ever 1-on-1, or that the current best player's sons are "soft" even though they are grade schoolers is also somehow a viable business strategy in 2017.
So here we are. Viral marketing campaigns for companies include mailing NBA players potatoes and going after LeBron's kids.
Get rich or say insane things tryin'.