Brandon Jennings is a career 38.9 percent shooter (37.7 percent this season). While he can hit the three (34.8 percent for his career), he is more known as a guy who tries to create shots for himself but often ends up making questionable decisions and taking low-percentage looks. He can pass, he can play with pace, but the Knicks need those things, and they waived Jennings after the trade deadline because he was shooting 38 percent for them and it just wasn't working.
Washington picked him up to provide some point guard depth — and coach Scott Brooks' has already told Jennings to shoot more. Making Brooks possibly the first coach ever to say that to Jennings. Here's what Jennings told Chase Hughes of CSNMidatlantic.com.
"Coach told me today during a timeout, 'when are you going to start shooting the ball?' I said 'I would if my hands weren't so slippery.' Every time I catch it, I feel like I don't want to airball it. He was like 'alright, well next game shoot the ball.'…

"I think this is the first coach to ever tell me to shoot more. Honestly. When I first came into the league, shooting wasn't really that popular where guys didn't really like point guards to shoot that much. Now it's like 'shoot the ball.' I've gotta get back to that," he said.
Early in his career Jennings was seen as an inefficient gunner, and coaches tried to get him to rein it in. This season Jennings has taken 46.6 percent of his shots from three, and hit 33 percent of them, but he needs to be straight on or in the corners. Jenning has his spots on the floor, but there is a lot of red in his shot chart.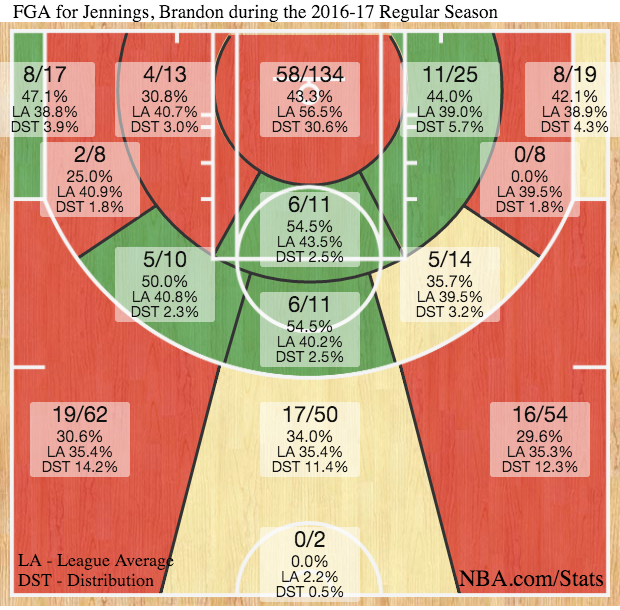 This fits Brooks' style — he made a bet with Bradley Beal to try to get him to take 20 threes in a game. Brooks wants an open, free-flowing offense where his players are confident to make plays and take shots. It has worked for the Wizards this season, maybe it works for Jennings.
But mostly if he can give John Wall some rest and just keep things flowing with the often (and rightfully) maligned Wizards bench unit, that alone will be a huge boost. Particularly come the postseason.