Patrick Ewing missed 32 games his rookie year, summing up the season by saying: "It was disappointing in some areas. It was very hard to watch your teammates and not be able to play."
He still won Rookie of the Year.
Nobody has ever won a major individual award — Most Valuable Player, Rookie of the Year, Defensive Player of the Year, Most Improved Player and Sixth Man of the Year — while playing such a low percentage of his team's games. But Ewing's record, playing just 50 of the Knicks' 82 games in 1985-86, could fall this year.
Joel Embiid, who played only 31 games before the 76ers ruled him out for the rest of the season, could still win Rookie of the Year.
If not Embiid, who else?
Embiid was incredibly successful while on the court, nearly singlehandedly transforming Philadelphia. He almost became just the third rookie All-Star this millennium (Blake Griffin and Yao Ming).
Meanwhile, the 2016 draft class his been dismal. No. 1 pick Ben Simmons is missing the entire season himself. No. 2 pick Brandon Ingram and No. 3 pick Jaylen Brown have increasingly flashed talent, but they've too often struggled adjusting to the NBA. Going further down the lottery produces similar results — at best.
Bucks guard Malcolm Brogodn, the No. 36 pick, has been the second-best rookie behind Embiid. Beyond Brogdon, the only other two rookies with more win shares than Embiid are the Heat's Rodney McGruder (undrafted in 2013) and Knicks' Willy Hernangomez (No. 35 pick in 2015).
Considering Embiid is done, the Spurs' Davis Bertans (No. 42 in 2011), Thunder's Alex Abrines (No. 32 in 2013) and Grizzlies' Andrew Harrison (No. 44 in 2015) could soon pass Embiid, too. And we're obviously not talking about eye-catching talent.
The Nuggets' Juan Hernangomez (No. 15) and Raptors' Pascal Siakam (No. 27) are highest among 2016 first-rounders in win shares — and they're still just tied for eighth with the Mavericks' Dorian Finney-Smith (undrafted). The highest-ranking 2016 lottery pick is Marquese Chriss, who places a meager 12th.
There's also a strong case win shares undervalue excellent per-minute performance relative to playing time. Embiid has probably made more of a difference in his 786 minutes than Brogdon has in nearly twice as many, and that might remain true even as Brogdon continues contributing down the stretch.
All this leaves Embiid a viable choice for Rookie of the Year.
Want to reward the rookie who has reached the highest level? That's Embiid.
Want to reward the rookie who added the most value to his team this season? That could come down to a tossup between Embiid and Brogdon (and maybe another challenger, if someone finishes strong).
Want to reward a super-talented rookie who sustained solid production over a reasonable number of games? Um… There just isn't anyone this year, though some voters will surely talk themselves into Ingram or Brown.
It's too early to say Embiid deserves Rookie of the Year. Brogdon and everyone else still has time to build their cases.
But I predict Embiid will win the award. Enough voters will include him on their ballots, including some who pick him first, and a lack of a clear second choice will have other competitors splitting votes.
If Embiid wins, he'd demolish Ewing's record for games missed by a major-award winner.
Here's every major-award winner who played fewer than 70 games adjusted to an 82-game schedule (seasons with fewer games are noted in parentheses):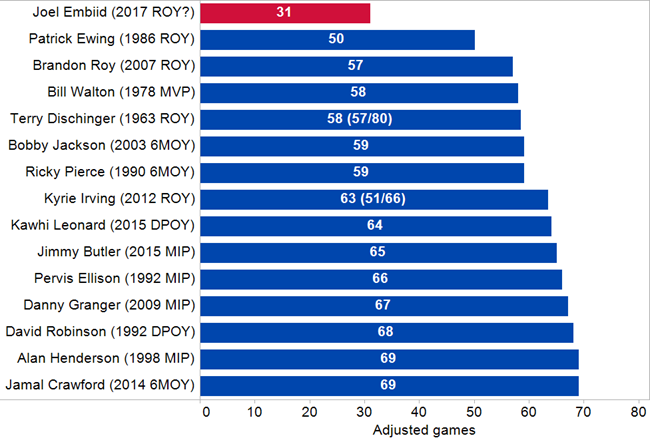 In fact, just a few players have received even a single vote for a major award while playing a lower percentage of their team's games than Embiid:
Andrew Bogut (2012 Most Improved Player): 12 games
Bogut received single first-place vote. Even in a lockout-shorted 66-game season, the then-Bucks center barely played due to injury. How did he get an MIP vote? Accounting firm Ernst & Young screwed up a vote than should have gone to Andrew Bynum.
Michael Jordan (1995 Most Valuable Player): 17 games
Jordan came back from his baseball retirement and played 17 games in 1995. Some voters probably figured he's still Michael freaking Jordan and picked based on his ability, not his contributions that season.
John Williams (1990 Sixth Man of the Year): 18 games
Williams came off the bench in 81 games the year prior, and then he averaged 18.2 points per game for the Washington Bullets in 1989-90. One problem: Williams started all 18 of his games in 1989-90. Still, two people voted for him.
Sean Elliott (2000 Most Improved Player): 19 games
Elliott missed most the season due to a kidney transplant. When he returned late in the year, many wanted to rally around him. One person decided an MIP vote was the appropriate way to do so.
I didn't have Rookie of the Year voting before 1977, so there could be a few other little-playing players who received award votes. But these situations have often involved strange errors or extremely irregular circumstances.
By comparison, Embiid's situation is pretty standard. He played extremely well then got hurt. Other rookies have mostly struggled.
The combination just sets up the possibility for history: Embiid playing only 31 games and winning a major award.