How badly does LeBron James want another playmaker on the Cavaliers' roster so they can better match up with the Warriors?
How about bad enough to be okay with playing with this guy: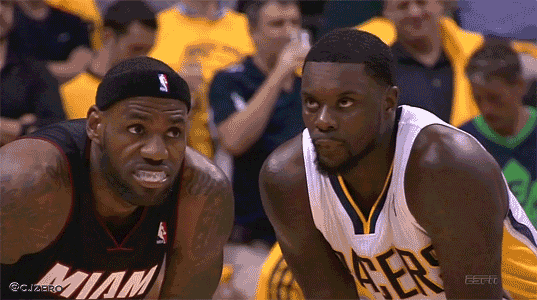 The Cavaliers are working out a number of potential backup point guards and playmakers, including Jordan Farmar and Kirk Hinrich, plus they have reached out to see if players such as Deron Williams are available via trade. They still would love to get Carmelo Anthony, just not at the cost of Kevin Love.
However, two names stood out on the list circulated Tuesday: Lance Stephenson and Mario Chalmers. Not just because of their talent, or because they are free agents coming off injuries, but because of their histories with LeBron. However, LeBron said Wednesday those histories belong in the past and he doesn't care, via Dave McMenamin of ESPN.
"I got a history with all those guys except Jordan," James said after shootaround Wednesday, as the Cavs prepared for their game against the Minnesota Timberwolves. "I got a history with Lance too, obviously. I got a history versus Kirk. I played him in a lot of playoff series. And I got a history with Rio [Chalmers]. … At the end of the day, Rio is recovering from his Achilles tear. I hope he's been doing everything he needs to do just to get back on the floor. He loves to play the game.

"I'm a supporter of what this franchise wants to do, no matter what it's doing. But my focus right now is to get our guys playing championship-level basketball."
That's LeBron and his "I'm not the defacto GM here" statements, but the reality is there is no way Stephenson or Chalmers get a workout without LeBron signing off on it.
Stephenson knows how to create for himself and can be a good defender when focused. Stephenson and the Pacers ran into LeBron and the Cavaliers twice in the playoffs, and in the 2014 Eastern Conference Finals came the legendary blowing in the ear incident. Stephenson also tapped LeBron in the face in that series, and LeBron said he was not sure how he restrained himself. Maybe that is all in the past, but it makes for an interesting locker room dynamic.
LeBron played with Chalmers in Miami for four years, and LeBron yelled at Chalmers a lot in those days. However, Chalmers also is fearless in big moments and hit key shots for that team. Chalmers was playing the best ball of his career last season in Memphis when he ruptured his Achilles, the question is can he return to form?
Don't expect the Cavaliers to make a rash move here, they can wait to see what plays out around the trade deadline.