Here's what you missed around the NBA while trying to figure out why Prince left behind $1 million in gold bars but not one raspberry beret….
1) Kyle Korver makes Cavaliers debut, but Gordon Hayward, Jazz defense steal spotlight. Here's the big takeaway from Kyle Korver's first game as a Cavalier — the Jazz are very good.
Korver will be good for the Cavaliers, too, but he hadn't even practiced with the team so visions of a lights-out debut were always a fairy tale. He was 1-of-5 in 18 minutes in his debut, going 0-of-2 from three (and 0-of-3 on uncontested looks). He will find a rhythm, and he will sync up with the Cavaliers.
Expect Korver to look a lot better Wednesday night when he and the Cavaliers face the Portland defense — the Utah defense is the best in the NBA this season and the Cavaliers found out first hand. Cleveland had just 12 points in the second quarter and shot 36.5 percent as a team for the game, struggling to score inside and get easy buckets thanks to the defensive presence of Rudy Gobert. Check out the Cavaliers' shot chart.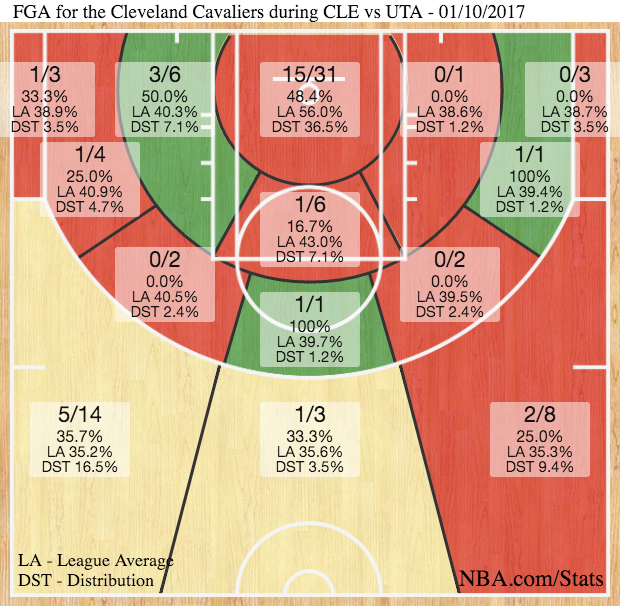 Cleveland took a brief third quarter lead when LeBron James just took over the game (he finished with 29 points, although Joe Ingles did a surprisingly good job on him defensively for stretches) and the team went on a 17-0 run. But the Jazz responded with a 16-0 run of their own behind Gordon Hayward, who finished with 28. Utah is a sleepy good team, one of only three teams with a top 10 offense and defense (the Cavs are not one of them, their defense is 14th) and come the playoffs they are going to make some noise. Defense and ball movement will do that. Just ask the Cavaliers.
2) DeMar DeRozan, Raptors remind Celtics who is second best team in East (at least for now). The Eastern Conference has Cleveland alone on the top tier, and so long as LeBron is not in a full body cast they will be the team that comes out of the East to the Finals. For most of the last two seasons, the second tier in the East has belonged to the Toronto Raptors alone, but of late Boston has made a push to climb up to that level.
And for a while Tuesday night, it looked like they would climb right past the Raptors, taking a 16-point third quarter lead thanks to another strong night from Isaiah Thomas (he finished with 27) and Al Horford (14 points and nine rebounds), Then DeMar DeRozan and the Raptors happened. DeRozan was brilliant and had 19 points in the third quarter to spark the comeback, Jonas Valanciunas was big (literally) and finished with 18 points and 23 rebounds, and finally Kyle Lowry added nine of his 24 in the fourth and Toronto came back to secure a 114-106 win at home.
I can't wait for the second-round playoff matchup between these teams — that is going to be fun.
3) James Harden drops 11th triple-double of season, second straight with 40 points, Rockets win ninth straight. Who is the MVP again? Midway through the season (an we're almost there) you can finally have an MVP conversation with some depth to it, and the race comes down to this — Russell Westbrook and James Harden. Everyone else in the conversation — Kevin Durant, LeBron James, Anthony Davis, Kawhi Leonard, etc. — are all a couple of steps back.
Harden has been on a roll of late — he led the Rockets to their ninth-straight win Tuesday night dropping a 40-15-10 line on good Charlotte defense. He is now just the fourth player in NBA history to have back-to-back triple-doubles with at least 40 points (Westbrook, Michael Jordan, and Pete Maravich are the others). Harden is in attack mode, he is seeing the floor, and his MVP case is that he has the numbers and the Rockets on pace to win more than 60 games. It's a damn good case.