Whatever happened with Derrick Rose on Monday — when he left the Knicks and missed the game against the Pelicans without notifying the team, going to Chicago to deal with "family issues" surrounding his mother — one thing is clear: He hurt his future earnings and chances of being with the Knicks beyond his current one-year deal.
That isn't going to stop the man from asking to get PAID. From Ian Begley of ESPN:
And then there is the potential price tag. Some close to Rose have told friends he will seek a max contract this summer. For Rose, that pact would be for five years and nearly $150 million.

The Knicks would need to use nearly all of their cap space to ink Rose to a max contract.
There is zero chance the Knicks would spend like that to keep Rose.
The real question is what teams will offer? The reality, despite the big name and MVP past, is that right now Rose is an average NBA point guard. He is moving better than at any point post surgery, he can penetrate off the dribble and get some buckets, but when Rose tries to do too much in the Knicks offense the team struggles (New York is 2-12 when he takes 17 or more shots in a game). He can't finish the same way he once did, shooting just 54 percent this season at the rim. He still has no great outside shot. Look at his shot chart for this season.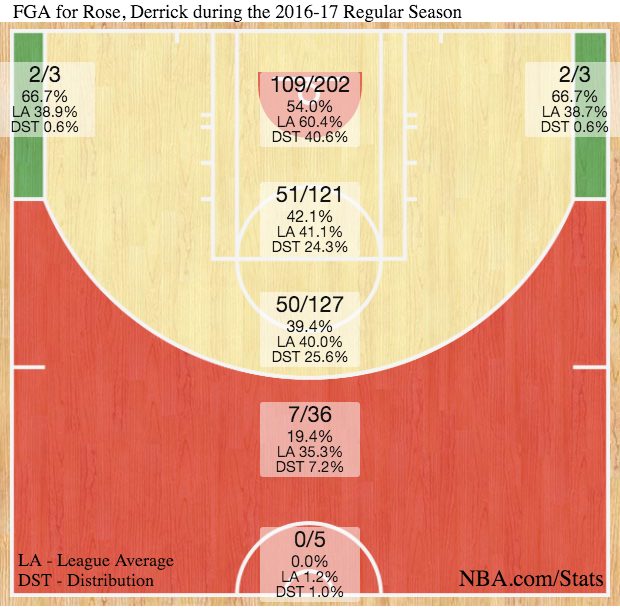 Throw in unimpressive and inconsistent defense and, well, how much are teams going to pay?
My guess is maybe $10 million to $13 million a season, and nobody is going to want to guarantee beyond two seasons. Maybe I'm underestimating the market for him, but this summer's free agency isn't going to be quite the "we have to spend this money" free for all last summer was, plus Rose's play and this incident do not help his cause.
But he can ask for the max. Reality will come along soon enough after that.