Unless you locked yourself in an underground bunker during election season — and who would blame you — you know that Russell Westbrook is averaging a triple-double for the Oklahoma City Thunder this season, and is on-pace for 39 in total, just two shy of Oscar Robertson's 1960-61 record of 41.
It seems only prudent that we should examine Westbrook's efficiency, and how he's been able to set the league aflame when it seems as though it would be easy enough to gameplan for the Thunder's one, true elite weapon on offense.
So let's start with the good stuff, and get to scoring first.
Scoring in Transition
A large part of Westbrook's buckets have come in transition. He's not only great at starting the break but sometimes he is the break.
Westbrook often takes the ball from painted area to painted area, so it makes sense that he's Top 10 in the league in average speed for starting guards.
Something that's a little surprising is just how many of Westbrook's 200+ attempts at the rim are in primary or secondary transition.
Middle Post
Westbrook also gets a lot of buckets out of the mid-post — that's the area from about 8-15 feet from the basket, and below the free-throw line.
In fact, according to NBA.com/Stats, Westbrook is shooting slightly better from the 10 to 14-foot segment than he is on average for the entire season.
Oklahoma City runs set isolation plays for him to get into this post position out of the halfcourt offense, typically very quickly, with one pass and one cross-formation screen to set him up down low.
But he also gets there himself, running straight into his guard while he's handling the ball on transition plays.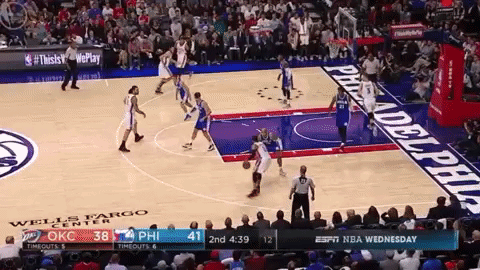 The examples above are pretty common for big guards, but even harder to defend against when it comes to Westbrook because of how dynamic he is on the break. Teams have to be able to defend against him going full steam ahead, or slowing it up, turning around, and then overpowering shorter players like Chris Paul.
Rebounding


Rebounding is where Westbrook is vital important for the Thunder, particularly on the offensive end of the floor. He grabs a fifth of Oklahoma City's offensive rebounds every game, and his average distance from the basket on all boards is under 9 feet. So how is he so good on the glass?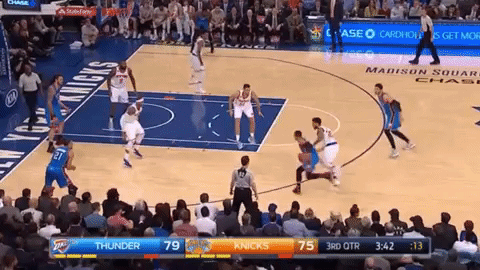 Part of it has to do with floor positioning. Westbrook is such an adept penetrator that he often ends up underneath the basket after a drive and a kick. On missed buckets from his teammates, he likes to go and mix it up down low.
Plus, the guy is just tenacious and he will crash on the defensive end of the floor for extra boards.
Assists
Russell Westbrook has been so good at passing this year that when it comes to adjusted assists — regular assists, passes that led to free-throws, and hockey assists — he collects 50% more per-game than Steph Curry.
Of course, you might expect that from a player with a usage rating of 41%, but it's also because of how Westbrook scores for himself.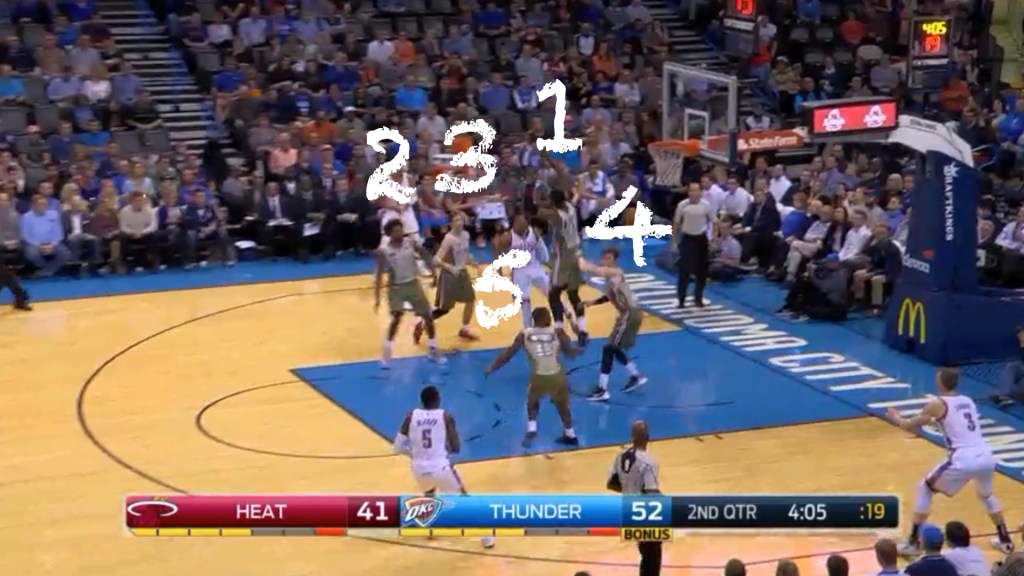 Teams are so worried about him in transition that they try to pack the paint around him. In the graphic above, you can see every single Miami Heat defender has packed it in against Westbrook.
If teams let him get too deep, it's easy buckets for Westbrook's friends. Even when he's not blazing it up in transition, it's hard for unprepared teams to stop Westbrook's passing.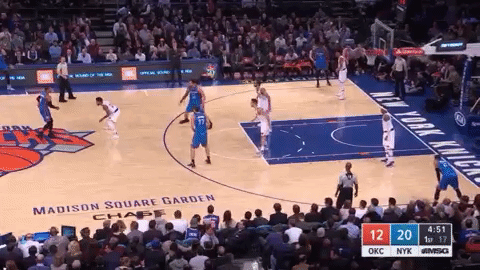 In the play above against the Knicks, Joakim Noah meets Westbrook high up to stop him from getting a run at the basket. Noah is squared off, and every single Knick has his head pointed toward the OKC star. The defenders at the free-throw line and the corner are shaded hard toward his drive, and Carmelo Anthony isn't even paying attention to Andre Roberson.
That command of attention — his gravity — is part of Westbrook's ability to create points for his team without scoring himself. When teams try to play tough with him in the middle post, there's plenty of cutters and weak side shooters to pick up the slack: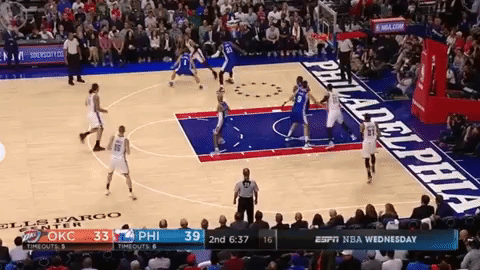 How to Stop Russell Westbrook
Well, let's just put it this way: nobody has really been able to stop him, not even on his "off" nights.
There have been five teams so far that have done the same three things in a given game:
Stop Westbrook from getting a triple double.
Force him to shoot 39% from the field or worse.
Beat the Thunder.
In each of these cases, it's been about either forcing Westbrook to take jumpers at the edge or just beyond that 10 to 14-foot range, or contesting him with significant help at the rim.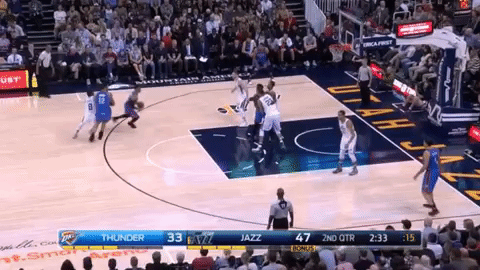 For example, in the play above against the Utah Jazz, they have All-NBA rim protector Rudy Gobert down in the paint. Gobert is ready to meet Westbrook at his highest point, and Utah has given Westbrook an unusual amount of space for that mid-range shot. But with so much runway, it's Westbrook's nature to run to the rim.
Meanwhile, you have Gordon Hayward digging so hard off the corner, I'd struggle to call it a dig or help. He's basically double teaming Westbrook once he gets to the rim, and the Jazz are able to force a miss.
This predictability is what has hampered Westbrook on his poor shooting nights. Teams who are prepared for the Thunder have shown a propensity to force Westbrook into the worst version of himself on these shots.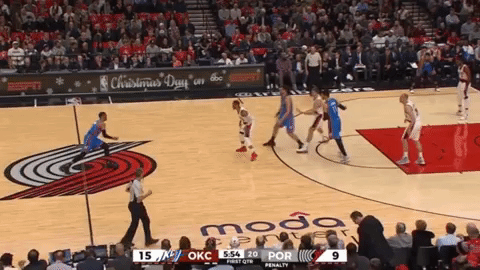 Against Portland, you have Meyers Leonard pretty high — the same area we saw Joakim Noah in earlier — but he's not trying to wall him off. Yes, Leonard is trying to stop Westbrook from taking the quick mid-range jumper, but then turning his hips to run with him to the rim. Leonard essentially gives way to Westbrook the entire way without letting him square to the hoop, and it works to force a miss.
Westbrook has done really well against non-elite rim protectors that try to use verticality — squaring off and going straight up at the rim — to try and stop him. He twists and turns in the air, and goes around them.
Tape on Westbrook suggests it's actually been more successful to try and keep Westbrook from being able to square to the hoop initially by running down the line with him if you don't have a Rudy Gobert-type of player on your team.
Squads like the Warriors have used their rim protection and this knowledge of Westbrook's stop-or-go tendencies to neutralize him.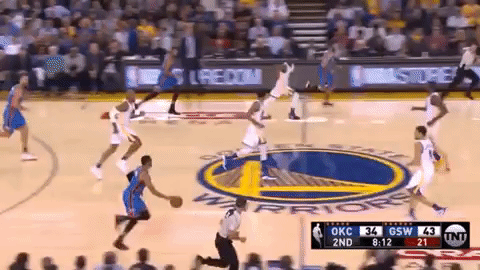 In the play above, Westbrook is going 3-on-5, but appears determined to drive. Forty feet from the basket the Warriors help defenders can already see what Westbrook is going to do, and they force him into a bad shot simply by collapsing on him.
Teams have also been successful using disciplined, hard digs from help defenders to throw off Westbrook once he gets into that comfort range: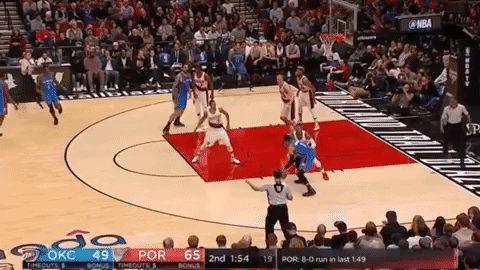 All that being said, it's not as though many teams have been able to successfully stop Westbrook. He's been monster in transition, he's a maestro from midrange, and his penetration has opened up both opportunities for his teammates and extra possessions thanks to his keen offensive rebounding skills.
I think we're all interested in seeing just how far this Oklahoma City team can go this season with Westbrook on a warpath. He notched his 13th triple-double of the season on Saturday against the Phoenix Suns. That puts him on pace for 39 on the season, two short of Oscar Robertson's record of 41 from the 1960-61 season.