We know you couldn't watch all of the NBA's Tuesday night lineup because you were focused on what a man's face looks like in super slo-mo when getting hit by a ball. We've got you covered, here are the takeaways from Tuesday.
1) In Chicago, Thibodeau's Timberwolves show tenacity, maturity. Get win. We clearly expected too much, too soon from the Minnesota Timberwolves. It's easy to look at their roster on paper, to watch all that young talent in a game — Karl-Anthony Towns, Andrew Wiggins, Zach LaVine, etc.— and see the potential for greatness. We all thought that the addition of coach Tom Thibodeau would bring to that talent the intangibles we saw in his Bulls teams — we'd see tenacity. Instead, we've seen a Minnesota team that plays an immature game, that doesn't show the determination, the grit to defend every play every night. We've seen ego. We've seen Thibodeau not been able to reach all this talent and teach the young stars the other things it takes to win in the NBA. We haven't seen grit and tenacity.
Until Thibodeau brought them home to Chicago Tuesday. The Bulls blitzed the Timberwolves and overwhelmed them early, racing out to a 26-6 lead, at one point being up by 21 points. Chicago put up 38 points in the first quarter.
But they put up just 56 points the rest of the game, never breaking 20 in a quarter and shooting just 33.8 percent overall and 15.4 percent from beyond the arc in the final three quarters. The result was a 99-94 Minnesota win. The Timberwolves team that has rolled over in the face of adversity all season buckled down on defense and was able to stall out a Bulls offense that, when pressed, is unimaginative and relies heavily on isolation. The Bulls do not shoot well from the outside (they did to start the season, but that has faded and they are 29th in the NBA in eFG%), and if you can keep them off the free throw line you can force them into tough shots. Meanwhile, on offense, the athletic Timberwolves were making plays.
What matters with the Timberwolves this season is progress. That hasn't come as fast as some wanted and expected to see, there will be no playoffs for the team this year, but progress may be coming. Tuesday night was a step. It's fair to question if Thibodeau and his hard-driving ways are reaching the young core and if they are buying in, or tuning the old man without a life outside basketball out. But maybe it's all just taking longer than some expected. Maybe Tuesday night we saw a step in the right direction, and while those steps may be wobbly at times ahead maybe there steadily will be other steps to follow. Let's see where this team is and how they are playing after the All-Star break. The narrative of this team could change.
2) Portland packs paint, blocks shots, finds formula (for a night) to neutralize Russell Westbrook, Oklahoma City. This was the Thunder team I feared we would see more of this season: The Westbrook-against-the-world model would run into teams packing the paint to take away his drives, there would be blocked shots and turnovers, and OKC would lack the shooting to make teams pay for that strategy.
With Victor Oladipo out for the Oklahoma City (sprained right wrist), that's what happened to them in Portland. The Trail Blazers played their best defensive game of the season, they sagged back and packed the key — there always seemed to be three guys in there on Thunder drives — and the result was the Thunder shot 40.4 percent in the paint. The Blazers didn't pay for that strategy as the Thunder shot 29.6 percent from three (and were 1-of-7 on corner threes). OKC turned the ball over on 19.4 percent of their possessions (big men Domantas Sabonis, Steven Adams and Enes Kanter combined for 11 turnovers between them).
This combined Tuesday night with the fact the weight of this offense seems to be wearing a little on Westbrook — he had 20 points, but it took 19 shots to get there. This is a trend now — in his last 10 games he's still averaging a triple-double (29 points, 12.4 rebounds, 11.2 assists) but he's shooting just 39.5 percent overall and 28.6 percent from three. Check out his shot chart from the last 10 Thunder games.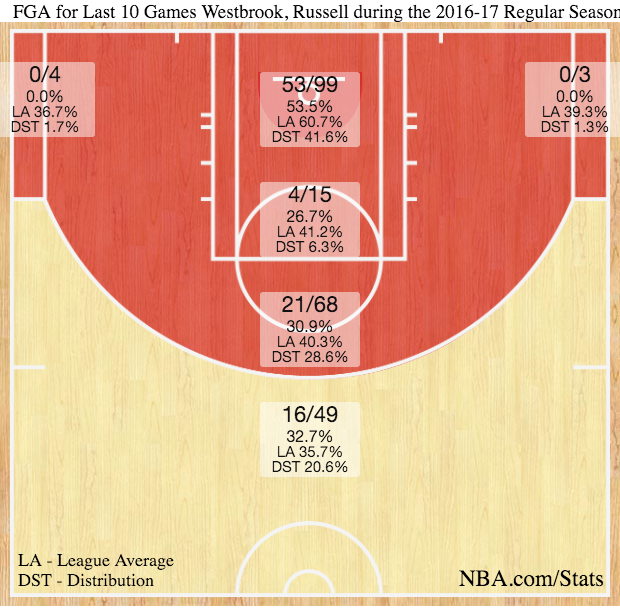 Oklahoma City has succeeded this season on a combination of a top-10 defense and Westbrook doing it all on offense. It's gotten them off to a 15-10 start. But Tuesday night the hot shooting that Portland can bring undid the defense (particularly the OKC bench units), and the loss for the Thunder points to bigger questions: Can they maintain that pace? Can Westbrook?
3) Fightin' Kristaps Porzingis puts up 34, but that's not enough for Knicks. Phoenix beat New York 113-111 in overtime Tuesday night, a nice home win for a Suns team that has had its share of struggles this season.
But that's not what everyone is talking about. Knicks' fan favorite (and New York's best player) Kristaps Porzingis put up 34 points and showed a lot of fight Tuesday. Almost literally after Suns' rookie Marquese Chriss threw KP to the ground.
Porzingis had a monster night, and if he doesn't foul out maybe overtime looks a little different.