A New Orleans restricted free agent in 2012, Eric Gordon signed a max offer sheet with the Suns and infamously declared his heart to be in Phoenix.
New Orleans matched anyway.
"I knew it wasn't going to happen," Gordon said. "I knew they were going to bring me back all along."
So why make those statements? Why alienate New Orleans fans?
"You just never know what a team might do or not," Gordon said.
Gordon been around long enough now to know you never know, even when you're certain you do. But this much he clearly believes: In his ninth NBA season and on the first team he picked, he's happy with the Rockets.
Gordon was drafted onto the Donald Sterling, pre-Blake Griffin Clippers, who had made the playoffs just four times in the previous 32 years and had developed a reputation for cheapness and disarray. They went 19-63, 29-53 and 32-50 in Gordon's three years in Los Angeles. Yet he says, "I enjoyed my time there."
He was traded to New Orleans as the centerpiece of the Clippers' package for Chris Paul, and he doesn't look back on his time with the Hornets/Pelicans quite so fondly. "Nobody was on the same page over there," Gordon said. "It was just different. We had the talent there, and things just didn't work out."
Gordon admits he sometimes wonders what would've happened if he had gone to the Suns. But they haven't made the playoffs and are on their fourth coach since his offer sheet. "After looking back on it now, they had a lot of chaos and turmoil there, too," Gordon said.
So, Houston is a welcome reprieve.
Gordon's first unrestricted free agency yielded a four-year contract worth more than $52 million. He's averaging 17.0 points per game, his highest mark in five years. He has been healthy after after missing 173 games in five years with New Orleans. And the Rockets are 15-7, on pace for what would easily be Gordon's most successful season.
Playing with James Harden and for Mike D'Antoni – whose fondness for Gordon dates back to their gold-medal run with Team USA in the 2010 World Championship – has treated Gordon well. Houston is focused on offense, Gordon's specialty, and its system accentuates his strengths.
Gordon leads the NBA with seven open 3-pointers per game, which he's converting at 41.3% clip: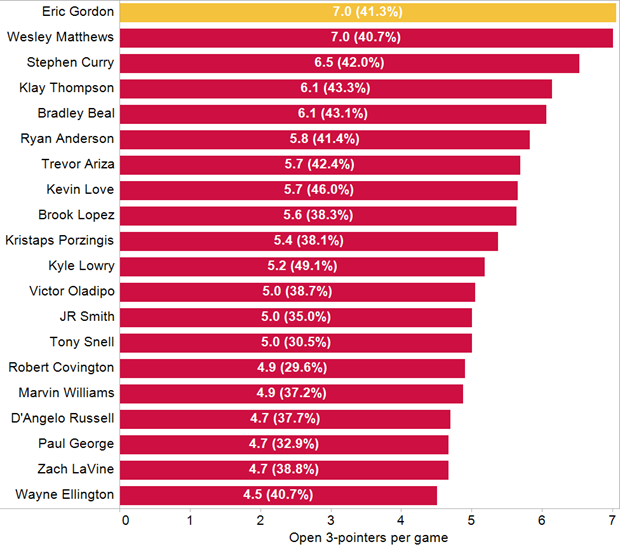 Notice the other Rockets on that list: Ryan Anderson and Trevor Ariza. Benefitting from playing alongside Harden – an attention-tracker and willing passer – is not unique.
But Gordon does more than just rely on Harden to get him open shots. Since moving to the bench with Patrick Beverley healthy, Gordon has proven particularly valuable when Harden sits.
Houston scores 118.7 points per 100 possessions with Harden on the floor, per NBAwowy!. That mark obviously plummets without Harden, one of the NBA's best offensive players.
Gordon has prevented it from falling too far, though.
He scores more points per 36 minutes (15.5 to 28.5) and does so with a higher true shooting percentage (56.0 to 62.5) from with Harden to without. He also handles more playmaking, increasing his assists per 36 minutes (2.4 to 4.1), though also, disproportionally, his turnovers per 36 minutes (1.5 to 3.6).
Still, Gordon's effect on the Rockets' offense without Harden is tremendously positive.
Houston's offensive rating without Harden – with Gordon: 107.7
Houston's offensive rating without Harden – without Gordon: 86.7
Propping up the Rockets' Harden-less offense has made Gordon an early contender for Sixth Man of the Year. Here are the win-share leaders among eligible players:
Given voting history, ranking eligible players by points per game is probably more predictive. It's at least even more flattering to Gordon: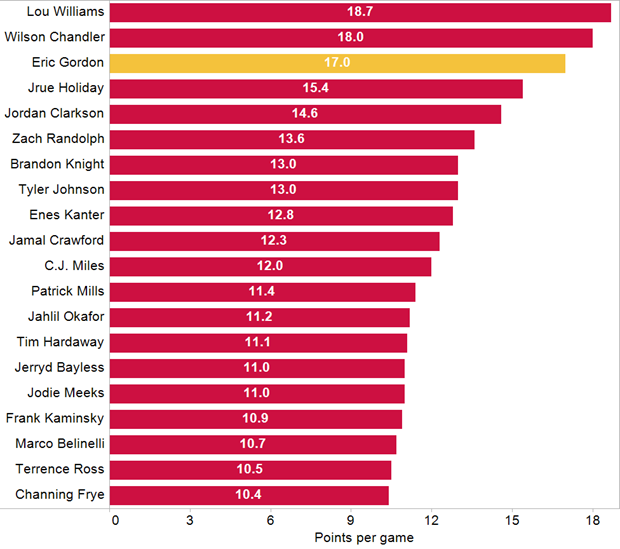 Lakers guard Lou Williams deserves to be the early favorite for the award. I'm also quite high on Spurs guard Patty Mills.
But Gordon belongs solidly in the mix.
It might not be the stardom the Clippers predicted when they drafted him No. 7 or New Orleans envisioned when it twice acquired him, but at least Gordon is happily contributing to a winner. After so much controversy – both invited (his Suns saga) and uninvited (being part of the Chris Paul trade) – he sounds happy in Houston.
"You just try to stride it out with whatever team you're on. So, you know, it's been a unique situation," Gordon said. "But here, it's been good."