What kind of night was it in the NBA? Russell Westbrook had his sixth straight triple-double, and everyone took it in stride like that happens as often as Family Guy reruns. Anyway, these are the three things we decided to feature instead.
1) Oh yeah, don't forget the Golden State Warriors have Klay Thompson, too. It's just not fair. The Indiana Pacers have not played good defense this season, they were on the second night of a back-to-back having beaten the Clippers, and they got rewarded for all this by having to face the Golden State Warriors. All that said, the Pacers did hold Stephen Curry to just 13 points, and Kevin Durant was well below his average with just 20 points.
Oh, but the Warriors still have Klay Thompson.
Klay was peeling off screens (15 possessions) and getting his chance on spot ups (eight), but once he got going it didn't matter the Pacers put Paul George on him and defended fairly well — Thompson was 11-of-14 on contested jumpers (via NBA.com). He was hitting from almost everywhere on the court.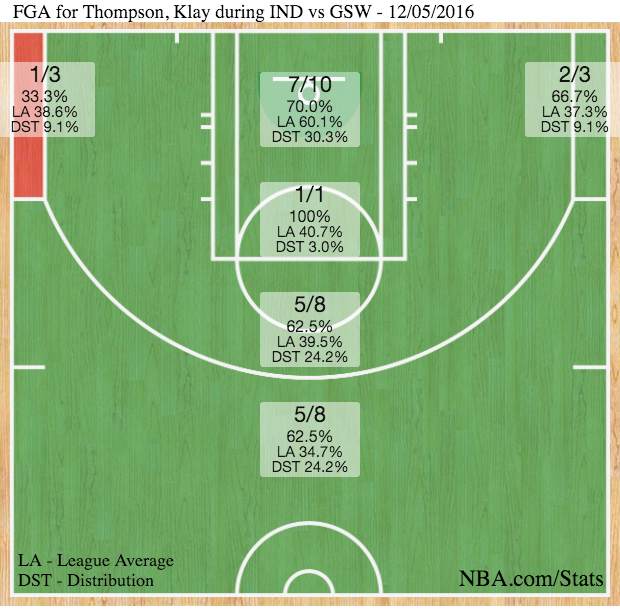 The Warriors offense is a fearsome machine.

2) Cleveland would like to remind Toronto — and everyone else — they are the best team in the East. The Cavaliers were on a three-game losing streak and had been playing in a malaise. The Toronto Raptors had been the hottest team in the NBA over the past couple of weeks. So when the top two teams in the East met Monday…
Cleveland won, 116-112, but it felt more comfortable than that suggests. They did it in Toronto. The Cavaliers were not sharp defensively in the first half but hung around thanks to 20 points from Kevin Love (he finished with 28), then in the third quarter the Cavs defended like champions holding Toronto to 20 points on 34.8 percent shooting. Cleveland never pulled away to make it a blowout, but they were in control. LeBron James had 34 points, eight rebounds, and seven assists, Kyrie Irving pitched in 24.
DeMar DeRozan (31 points, and carried the team for stretches) and Kyle Lowry (24) played well, but they did not have enough help. Particularly from their starting front line.
If Toronto is going to threaten Cleveland come the playoffs, Raptors GM Massi Ujiri is going to have to make a move. This team simply does not have the talent to beat Cleveland four out of seven as currently constructed. Monday was simply a reminder of the pecking order in the East when Cleveland cares about the game.
3) Jamal Murray went into Joel Embiid's building and dropped an impressive 22, just to make an early Rookie of Year statement. It's still too early to have a serious discussion of postseason awards. To me, any discussion before we get to the season's halfway point is premature. Not that being premature ever stopped us, just providing some context.
Joel Embiid became the early Rookie of the Year leader with his performance this season, but Jamaal Murray won the Western Conference Rookie of the Month award for November because the Denver Nuggets' reserve guard has shown better handles than we expected, and that's given him room to get off the shot we knew he had.
Monday night, Murray went into Philly and dropped 22, hitting seemingly everything.
While Denver big man Jusuf Nurkic made things difficult for Embiid, who finished with 16 points on 15 shots.
This is just one game out of 82, it does not define a ROY race that is far too early to talk about seriously (especially this award, which often goes to the rookie who gets hot and more run in the second half of the season), but Murray is making his case for serious consideration. And he's earned that thought.