Warriors guard Klay Thompson possessed the ball for 1:28 last night.
Teammate Ian Clark had it for 2:05.
Obviously, Thompson made a little more of his opportunities.
Thompson scored an insane 60 points in 29 minutes in Golden State's win over the Pacers.
Remarkably, he didn't hijack the offense to produce those eye-popping numbers. Thompson shot a cool 21-of-33 from the field, and 20 of his baskets were assisted. In addition to Clark, Stephen Curry,Kevin Durant, Draymond Green and Shaun Livingston all possessed the ball longer than Thompson.
In fact, nobody has come close to scoring so much while having the ball so little.
Here are the highest scoring games since the NBA began publishing possession time in 2013-14, marking points in time of possession: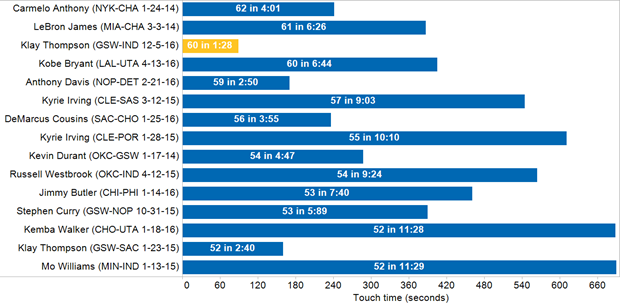 The the second-lowest time of possession on that leaderboard was also by Thompson. He scored 52 points in 2:40 of possession against the Kings in 2015.
But even that game required more than a minute of extra touch time.
Who has scored the most points in a game while possessing the ball for fewer than two minutes? Again, Thompson litters the list – with last night blowing the rest out of the water:
Klay Thompson (GSW-IND 12-5-16):60 in 1:28
Klay Thompson (GSW-DAL 1-27-16):45 in 1:40
Bojan Bogdanovic (BRK-PHI 3-15-16):44 points in 1:53
Klay Thompson (GSW-PHO 12-16-15):43 in 1:17
Anthony Davis (NOP-UTA 11-22-14):43 points in 1:36
Maybe Thompson knew what he was talking about when he said he wasn't sacrificing for Durant. Even with his usage rate down slightly, Thompson has still found ways to flourish. He gets hot in a hurry.