Here's what you missed on an entertaining Monday night around the NBA, while you were busy dressing like a ninja to fight for, the homeless.
1) Russell Westbrook now averages a triple-double — for the season. It's not even December yet and already we're starting to run out of superlatives to pair with Russell Westbrook. On Monday night, angry Russ was just one assist away — let's say Joffrey Lauvergne knocked down an open jumper — from having his third-straight triple-double by halftime. He easily got his eighth of the season, finishing the night with 27 points, 18 assists, and 14 rebounds leading the Thunder to a 112-103 win against the Knicks.
What is stunning is Westbrook is now the first player since Oscar Robertson to average a triple-double this far into the season — Robertson finished the 1962 season with a triple-double, and after Monday night Westbrook is officially at 30.9 points, 10.3 rebounds and 11.2 assists per game. Anyone who doubts if he can keep it up hasn't watched the unleashed fury with which Westbrook is playing this season, now that Kevin Durant moved west.
Here's what makes Westbrook's accomplishment even more impressive: The Thunder play at a pace of 99 possessions per game, back then Robinson's Cincinnati Royals played at 124.9. That is 26 more opportunities a night for shots, assists, and rebounds that Robinson had.
Westbrook was 9-of-23 shooting Monday night, which isn't very efficient, but he got some help from Enes Kanter who had 27 points on 17 shots off the bench and helped lead a second unit that sparked a second quarter comeback and held the fort down in the fourth while Westbrook got some rest.
That's three straight wins triple-doubles and three straight wins for the Thunder, who improve to 11-8. The question about Westbrook winning MVP — and we're a long way off from that discussion on that topic — was would the Thunder have enough wins for some voters' tastes. The question wasn't going to be production, but how far he could lift the team (Kobe Bryant, Allen Iverson and others didn't win MVP in their best statistical seasons because the team wasn't good enough). The last three games Westbrook has shown he can lift this team up, the only question is how far he can carry it.
2) Warriors have won 12 in a row, and they beat the Hawks with defense. In its 11-game win streak heading into Monday night, Golden State had won its games by an average of 19.1 points per game. They haven't just been winning, they've been blowing teams out.
Which is what made Monday night interesting — Atlanta made them work for it. Atlanta got off to a fast start this season to a great part thanks to their defense and they protected the paint well all night: The Warriors were only 12-of-20 at the rim all night. It took a few things for the Warriors to get the win, such as Kevin Durant and Andre Iguodala sparking a 21-7 run from late in the third quarter to early in the fourth that gave the Warriors the lead for good, or the Hawks helping out by shooting just 7-of-29 from three (Kyle Korver had just one).
But the real key for Golden State was their defense once they got that lead late. Draymond Green had just four points on the night (2-of-9 shooting) but was tremendous on defense in the fourth quarter — he blocked Dennis Schroder then Kent Bazemore on drives, and he was the key reason the Hawks shot chart looked like this in the fourth, when Atlanta shot just 27 percent.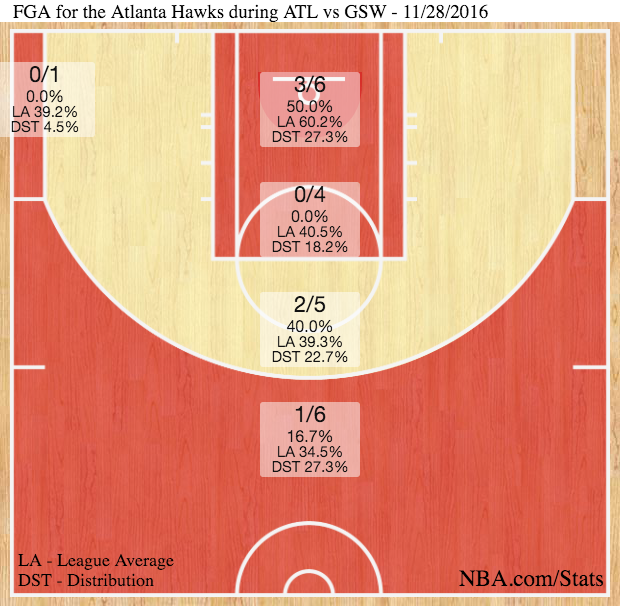 After a tough defensive start to the season, the Warriors are now eighth in the NBA defensively and playing well on that end.
Green — with the help of his coaches and teammates — has already started to wage a campaign for Defensive Player of the Year. He has come in second in the voting twice, he wants it. Much like with Westbrook and the MVP race, it's far too early to have a serious discussion about end-of-season awards when we're not even to December, but this is these are the kinds of plays DPOYs make — and if you make them, you can dance.

3) DeMarcus Cousins was again a beast. Again the Kings lost anyway.
Stop me if you've heard this before. The Kings went into this season with high playoff aspirations, but they keep suffering losses in games they should win — despite the play of their star.
On Monday night DeMarcus Cousins led the Kings in points (36), rebounds (20), and assists (4). He was the guy who drove in isolation and got past Marcin Gortat for the final two Kings buckets in regulation to tie the game, then contested John Wall's potential game winner that missed as time expired. Boogie was fantastic.
But the Kings lost, 101-95 in overtime, and fall to 7-11 on the season. There were a few reasons Washington won, and it give the victors and their stars credit — Bradley Beal had a strong night with 31 points, while John Wall finished with 19 points and 11 dimes. However, the biggest difference was the benches. It was a tight game at the end of the third when Cousins and Rudy Gay went to the bench for some rest, and pretty soon Washington went on a 10-0 run. Cousins helped dig his team out of the hole, but that was all he could do. Washington leaned heavily on its starters (they played 24 minutes together and were +5), but their bench made plays.
And with another loss, the vultures — in the form of other teams' GMs — continue to circle Sacramento, looking to pick off Gay, or Omri Casspi, and eventually Cousins himself. Go ahead and argue the Kings are just two games back of the Lakers for the final playoff spot in the West right now, but unlike Los Angeles, Sacramento doesn't look like a playoff team.