We know you spent most of Sunday in traffic getting back from seeing family over Thanksgiving, after trying to convince them not to deep fry a frozen turkey. Here're three things you missed and would have learned watching the NBA instead.
1) Portland's defense could have team home for playoffs. The Portland Trail Blazers have scored 100 or more points in 17 of 19 games this season. Yet their record is 9-10, and if the playoffs started today Damian Lillard, C.J. McCollum, Evan Turner and the rest of them could charter a fishing boat out of the Florida Keys because they would have plenty of free time.
The reason is the worst defense in the NBA. That came to a head Sunday when the Rockets went into Portland and won 130-114 behind 38 and 10 from James Harden.
If you're about to say "but the Blazers' defense was bad last year and they made the playoffs" you don't understand how bad things have gotten. Last season Portland allowed 105.6 points per 100 possessions, 20th in the NBA (tied for worst to make the playoffs with Houston). But this season the Trail Blazers are allowing 110.5 per 100, nearly five more, which is dead last in the league (and it would have been last a season, too). With undersized guards — Lillard and McCollum — at both spots, and not a lot of mobility along the front line (especially with Al-Farouq Aminu missing time and Festus Ezeli not yet healthy), the Blazers are getting torched by the pick-and-roll. They system hasn't changed from last season, they still have the big stay back and protect the paint, but opposing guards are attacking and getting a lot of clean 5-10 foot jumpers, or creating looks for others. Also, move off the ball — or spring a guy off a screen off the ball — and as a team Portland struggles to track it. A lot of poor defenders are getting heavy minutes rotation.
Sunday 41.5 percent of the Rockets plays were pick-and-rolls (via Synergy Sports), and in the fourth quarter it accounted for 11-of-26 (with another seven being in transition). Harden is as good a pick-and-roll operator as there is in the league, but against Portland it was open season. He took advantage, and the Rockets got the kind of win between two potential playoff teams in the West they needed.
2) DeMarcus Cousins reminds you why your GM wants to trade for him. Some teams wouldn't trade for DeMarcus Cousins if they could get him for a couple of second-round picks — those GMs fear what he would do to team chemistry. They are also the minority. Most GMs think a change of scenery, with the right coach/locker room, and the off-the-court issues would go away and what would be left is the beast on the court.
Cousins reminded everyone what that beast looks like Sunday, dropping 37 on the Brooklyn Nets, to go with 11 rebounds, leading the Kings to a win in Brooklyn.
He was 13-of-24 shooting and did most of his damage around the rim, but you can't just give him the straight-on three. With this performance, Cousins moved past Chris Webber on the all-time Sacramento scoring list.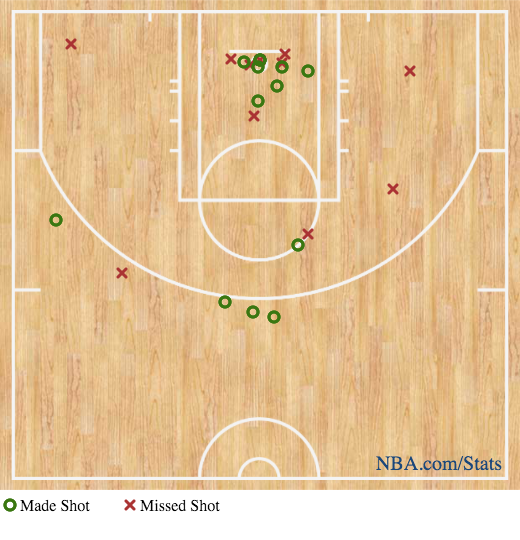 For the record, teams are still being rebuffed if they call about a DeMarcus Cousins trade (Rudy Gay or Omri Casspi, on the other hand…). Until owner Vivek Ranadive changes his mind — he remains Cousins' biggest supporter — nothing will change. Still, other teams remain convinced the Kings have to do something with Cousins (who is a 2018 free agent), and maybe by the February deadline (I'd be surprised, my bet is draft night). Other GMs continue to circle the Kings like vultures, just waiting.
3) Matt Barnes proves a bad pass can be a good shot. Let's end this on a light note, sticking with the Kings. Matt Barnes tried to throw up an alley-oop lob to Rudy Gay, who had spun off his man and gone to the rim. Except, Barnes' pass was more old school two-hand set shot. The best part is Barnes reaction.