Have a happy Thanksgiving, travel safely, and remember the real first Thanksgiving meal would have been very different.
1) Anthony Davis reminds Karl-Anthony Towns, everyone why all the GMs used to pick him to build around. It's an annual question on the NBA's preseason GM survey: If you could build your team around one player, who would it be? Two years ago the GMs overwhelmingly chose Anthony Davis. This year it was Karl-Anthony Towns, which made sense after his breakout rookie season while Davis battled injuries. GMs tend to be fickle (watch the GMs pick Joel Embiid next year).
Wednesday night, Davis reminded Towns and everybody else why he is the guy who should be on top of that list.
Davis was a dominant force for New Orleans, putting up 21 points in the first quarter on his way to 45 points on 17-of-27 shooting for the game. Davis did much of it in the paint — he was 7-of-7 in the restricted area and 6-of-8 in the rest of the paint. It was unfair as Davis just shot over or blew by Gorgui Dieng or Towns (his defenders) and scored at will — including a personal 8-0 run during the third quarter when the Pelicans pulled away for the win.
Towns is undoubtedly still a great player and a franchise cornerstone — eventually, Tom Thibodeau will get Minnesota playing defense and figuring it how not just to come apart in the third quarter. But the Timberwolves have work to do and look like they will be next year's breakout team, not this year's.
The Pelicans have won four in a row (and now 6-of-8), and make you wonder if they can overcome that ugly 0-8 start that looked like it doomed them.
2) Maybe one shouldn't just leave Kevin Love open. Love's first points of the game Wednesday night came with a difficult baseline 15-foot fadeaway over Mason Plumlee. It was a high degree of difficulty shot that fell that showed Love was on his game.
So the Trail Blazers responded by leaving him wide open from three for his next several shots, so he could really get his stroke and confidence going.
The result was Love dropped 34 points on Portland — in the first quarter. Love was 11-of-14 from the floor, including 8-of-10 from three, and seemed like he could not miss.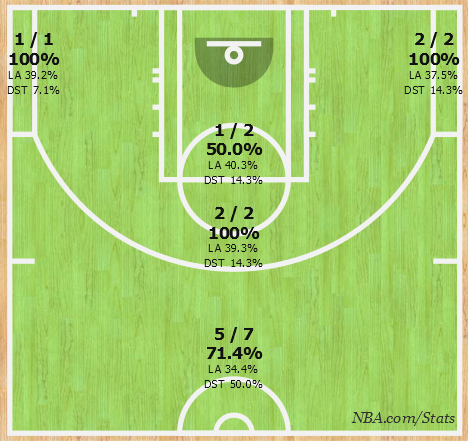 A lot of his shots came on pick-and-pops where both Portland defenders went with the ball, or where Love's man just flat-out lost him at the arc and couldn't recover. That said, Love hit some tough fade-aways and made plays in the post.
3) James Harden's triple-double: 29 points, 15 assists, 12 turnovers. That led to a loss. When you are not just the primary but one-and-only playmaker on the team, as James Harden is, it's not enough just to put up numbers — you have to be efficient doing it. Or your team loses.
That's what happened when the Rockets took on the Raptors Wednesday night. Harden was wheeling and dealing, with 29 points on 13 shots, plus 15 assists. But, he turned the ball over 12 times — 26.5 percent of his possessions used ended in a turnover. As a team, the Rockets turned it over 28 times — 27.9 percent of the team's possessions ended in a turnover. Do that against a good team like the Raptors and you'll watch them score 33 points off turnovers, you'll watch DeMar DeRozan drop 24 points (a slow night for him of late), and you'll watch the Raptors win 115-102.
It's the unfair burden on Harden (and Russell Westbrook) this season — putting up numbers is not enough, they need to be efficient doing it or their team will lose.
Bonus thing we learned (which we already knew): The Warriors and Cavaliers can put up points. Fueled by Kevin Love's ridiculous hot hand (see above), the Cavaliers put up 81 points in the first half on the Trail Blazers. Not to be outdone, the Warriors hung and 80 on the Lakers in the first half. It was a scoring free for all night around the NBA where eight guys — Kawhi Leonard, Russell Westbrook, DeMarcus Cousins, LeBron James, Damian Lillard, Stephen Curry, Love, and Davis all had at least 30 points (and Harden had 29).