In last week's video breakdown, we talked about how Los Angeles Lakers guards used split screens to beat the Golden State Warriors, effectively giving them a taste of their own medicine. Today we're going to talk about some of the types of off-ball guard screens the Boston Celtics used to beat down the New York Knicks this last week by a whopping 28 points.
It all starts with a set you've probably seen Brad Stevens run before but never really noticed. It's called Down Spread, but there's a few variations, including one called Down Spread Exit that they use to get easy 3-pointers on the wing.
In its basic form, the looks like this, with a ball handler at the top, a post in front of him, and another wing or guard stacked toward the basket.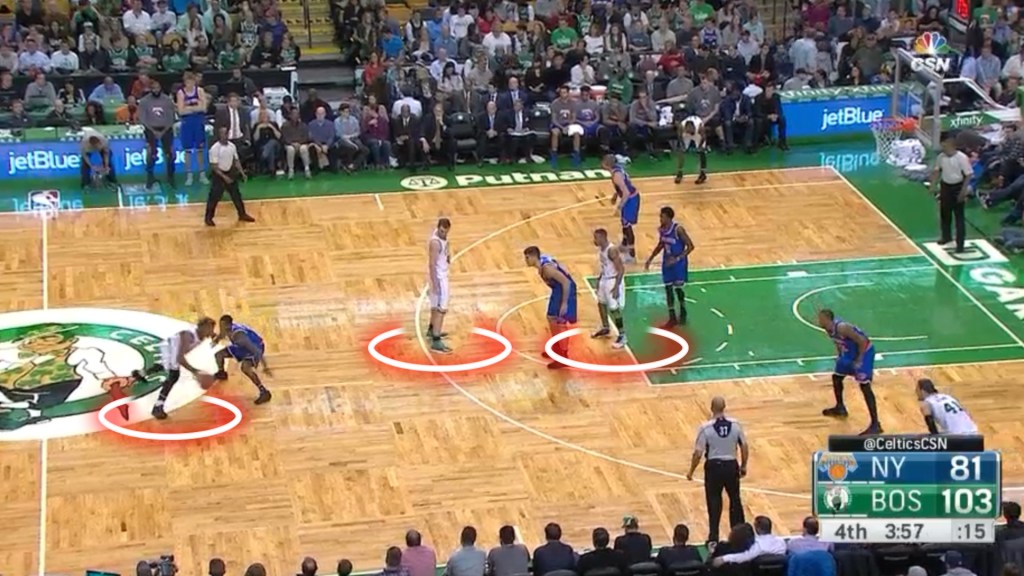 The way you can recognize this play set is by watching for an exchange between the post and off-ball wing standing below the ball handler. Effectively, the idea is to have these two players "screen" for each other without setting a hard pick. It's a device used to befuddle the defense.
In this example, the Celtics got a drive-and-kick 3-pointer on the opposite wing:
But we also saw this play be effective against the Knicks as a pick-and-roll.
In the example below, check out who actually does the screening. Marcus Smart and Tyler Zeller are the two players in the pick-and-roll itself, but Zeller never actually screens Smart's man.
Thanks to that nifty stacking of players at the free-throw line and that exchange we talked about earlier, Avery Bradley is the one actually making the soft "screen" on Smart's defender.
A final variation of this play was a little more complex, with the stack at the free-throw line flipped. This time, it's Isaiah Thomas above with Amir Johnson down low.
After the exchange at the free throw line, Thomas sets a screen for Smart, who cuts to the paint. Zeller then screens for Thomas, who V cuts to the arc for a spot-up 3-pointer.
Pretty cool stuff, and it's always fun to see a lot of off-ball movement by dominant dribbling guards like the Celtics have.