Here's what you missed Sunday night around the NBA while taking part in a grave digging competition…
1) Serge Ibaka just needed a revenge game to get going. Through nine ugly games to start the season, Serge Ibaka just told Magic fans "keep believing in me" (while OKC looked smart for getting Victor Oladipo). The days when Ibaka was going to be the third star in Oklahoma City next to Kevin Durant and Russell Westbrook seemed a distant memory, as did the full-court game that made one think Ibaka could be that guy.
What Ibaka needed was a revenge game. Even if he didn't really have a reason for revenge. Ibaka came out against his old team Sunday and showed them what they were missing — he was the ghost of Thunder past. Ibaka scored a career-high 31 points — including draining the game winner with a nine-foot baseline jumper. But more than just the points, it was "Ibaka the rim protecting beast" that showed up and won the game for Orlando — his four blocks helped the Magic get out to the 20-point first half lead (that they almost blew late). Now it is Steven Adams that is the anchor in the paint for the Thunder, the guy that helped make Ibaka expendable in OKC, and Ibaka took a personal joy in shutting him down.
The other hero for Orlando may be Elfrid Payton, who had a line of 23/7/9 and seemed to have his way when Westbrook was guarding him (Andre Roberson shut him down, but Roberson was needed on Jeff Green who posted up Westbrook at will when they switched). Payton had key threes in the fourth when the Magic needed him in a frenetic game. Westbrook got another triple double — 41 points, 16 assists, 12 rebounds — but Oklahoma City could not just outscore Orlando. The Thunder started the season 6-1 because of the combination of Westbrook and strong defense, but the defense part of that has gone away during a three-game losing streak. Look at Orlando's shot chart from Sunday night.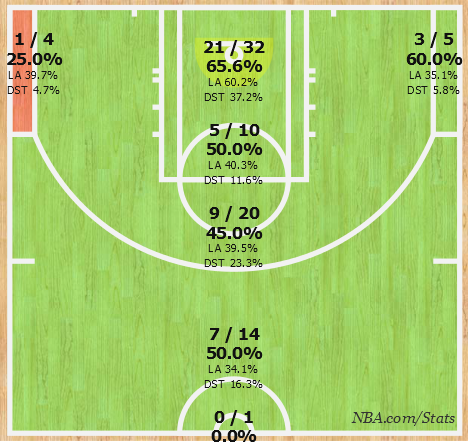 2) Andrew Wiggins found the Lakers "defense" to his liking. When I wrote about the Lakers potentially making the playoffs after a 6-4 start, I said it would come down to if they could sustain their league-average defense. If you want an example of why I question that, look no further than Andrew Wiggins — in a battle of "up-and-coming young rosters in the West" Wiggins dropped a career high 47 on the Lakers, who had no answer for how to defend him (not that any team has of late).
Wiggins was getting to the rim and not settling for turnaround jumpers. He also just continues to kill it from three — 54.8 percent this season (that is not sustainable) — which opens everything up.
3) Damian Lillard keeps putting up points, and Portland keeps on winning. It seems easy to look at the stat lines some nights and say "Damian Lillard dropped 32, of course he did" and move on as if it's an everyday thing. Because he can get those numbers at will. But Lillard is getting those buckets in wins and Portland is now 7-4 to start the season and right there with two good teams in the NorthWest division in OKC and Utah. Lillard had 32 as Portland beat Denver Sunday and they are right now the four seed in the West — they can have dreams of getting home court in the first round of the playoffs. Which is a long ways off, but when Lillard keeps doing this things happen.