It's still early in the NBA season, there's a lot of small sample size theater going on, but we are starting to get a sense of who teams are and what they are about. That was true Sunday, here are three things we learned while you were being touched inappropriately by a ghost…
1) The Lakers are playing fast, having fun — and winning. The Lakers love basketball.
It sounds simplistic, but that mantra is at the core of what Luke Walton has done to turn a young team into one of the must-watches of League Pass so far this season. The Lakers are unburdened by expectations, have been freed from the shackles of Byron Scott, there is no Kobe Bryant to soak up half the shots — and the result is entertaining and occasionally beautiful basketball. And they are winning. The Lakers are playing at the fastest pace in the NBA this season, averaging 110 points a game, and after a victory over Phoenix Sunday night they are over .500 at 4-3.
There have been transformations. Nick Young, Lou Williams, and Julius Randle are thinking pass — Young led the team with 24 points Sunday and has looked like a mature, complete player. A year ago, Randle would have gone right at Tyson Chandler in a little 1-on-1 they were having, instead at a crucial moment he kicked it out to Jordan Clarkson for a big three. Not that Randle isn't going to the rack and finishing, too.
Walton also brought the Warriors switching all picks defensive mentality, and it's working fairly well (the Lakers are middle of the pack defensively), particularly late in games. There's a lot of Warriors actions in the Lakers offense now (more on that to come later today) — and that's a good thing, it means ball and player movement, not isolation and stagnation. There are still steps the Lakers need to take — D'Angelo Russell is shooting 35.6 percent, the team as a whole is turning the ball over too much, and Brandon Ingram is a work in progress — but you can see the growth curve for this team. And you should see them; the Lakers have become fun to watch.
2) Harrison Barnes has been impressive despite Dallas' record, leads team to first win. Harrison Barnes in the preseason had Mavericks' fans asking "what did we get ourselves into?" With reason. But once the games have mattered he showed he has figured out how to be a No. 1 option and he has impressed — Barnes dropped a career-high 34 on the Bucks Sunday, the second time five games he put up 30 (something he did once his entire time as a Warrior). Sunday it included a driving layup with :13 on the clock to force overtime against the Bucks, then was a force in OT (with smaller players switched onto him) to get the Mavs the win.
Barnes is a work in progress — it still looks like he is thinking a lot out there, he's not fluid and instinctive with his moves. However, he is fundamentally solid and is scoring almost an equal amount off the catch and off the bounce. He gets in a good triple-threat position with the ball and makes the smart decision. When he drives he explodes. And right now, he is killing it in isolation and from the midrange. Check out his shot chart for the season.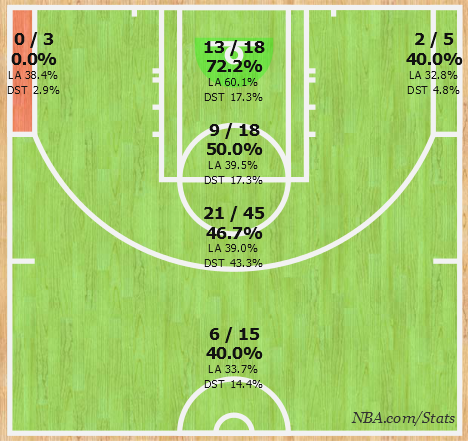 Barnes isn't playing in a way that makes you think "I need to vote for this guy to be an All-Star" but he is playing well. He just needs some help around him.
3) Utah looked much better on offense with Gordon Hayward back. Early on Sunday, Gordon Hayward looked like a guy who had been out injured, a guy trying to shake off the rust of missing much of camp and the start of the season with a broken finger. Because he was.
But with the game on the line late against New York, the Jazz rolled out a lineup of George Hill, Rodney Hood, Hayward, Joe Johnson, and Rudy Gobert (when Gobert fouled out Derrick Favors came in) and it was smooth. Just flat-out better than what the Knicks could muster. Hayward gives them another shot creator besides Hill, plus Hayward can space the floor from three and gives a good defensive effort. Hayward finished with 28 points on the game to lead the Jazz, and it was nice he got to ease back into the NBA by playing against the Knicks.
That Utah went 3-3 without Hayward is a very good sign for their playoff chances, I expect this team to be a top-five seed when we head to the playoffs, If they can just stay healthy.
Bonus Thing We Learned: We found out what happens when Kristaps Porzingis and Rudy Gobert run into each other in the paint. Damn. First this:
Then this.