Watch the full video breakdown above or read the text version below if you'd prefer.
The Los Angeles Lakers stunned the Golden State Warriors on Friday, 117-97. No doubt first-year Lakers coach Luke Walton aided in the win in part by using his old team's system against them to get an easy bucket.
Today's breakdown comes courtesy of the split action, or split cut. If you're not familiar with it, the split cut typically comes as two offensive players crisscross or scissor cut the post player either at high post or low post.
It can also reference when a player setting a screen away from the ball for another player slips it instead of setting it, often on a back cut to the basket.
You're going to be most familiar with this if you've watched a lot of Warriors basketball, where they run this action frequently to get easy buckets at the basket for Stephen Curry and Klay Thompson.
LA using it against Golden State is particularly great, so let's get into how the Lakers ran the split cut against the Warriors with an example.
The Setup
The play starts with Brandon Ingram at the top of the floor with the ball. He's going to loop all the way around to the left block for a post play.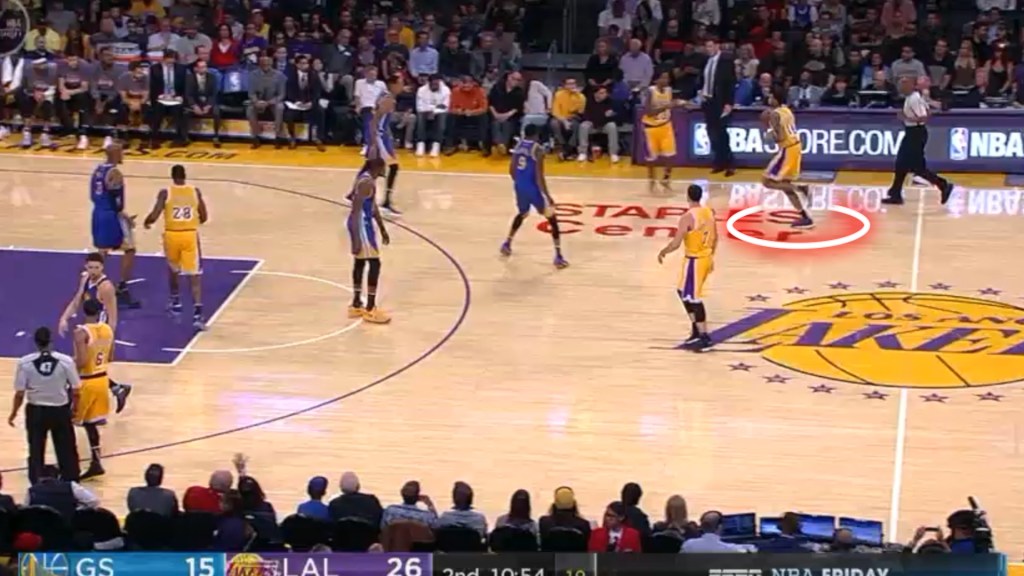 After Ingram hands the ball off, there's a quick reversal to the left side of the floor. Jordan Clarkson has the ball at the garden spot with Ingram getting the screen from Tarik Black down low. That sets up an inlet pass to Ingram in the post.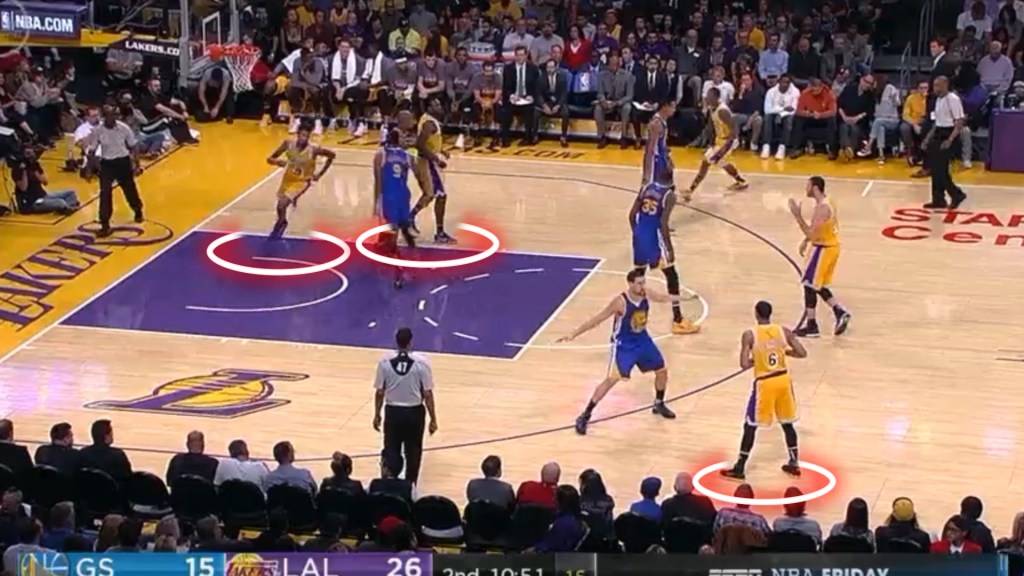 The Split Cut
Now comes the fun part. We're going to see Clarkson and Nance run what's called a split action or a split cut.
At this point it looks like Nance is setting a flare screen for Clarkson to pop out to the arc. That sucks both Kevin Durant and Klay Thompson up toward the 3-point line.
Notice the giant amount of space available in the painted area. Early in a play's development, look for the negative space on the floor. This is often where a play's scoring opportunity will come from or is aiming for.
Conclusion
From here, Nance refuses to screen Clarkson and instead cuts to the basket, catching Durant off guard. A little ball fake from Nance to get Durant in the air, and it's a bucket for the Lakers.
Watch the full video breakdown at the top of this article and stay tuned for new breakdowns every week.