It's still very early in the NBA season — we're still watching small sample size theater — but we are starting to learn some things. Here is what we learned on Sunday while watching the best World Series Game 7 we have seen in a long time…

1) Russell Westbrook is great, but Thunder defense is getting them wins. Trivia time: Which team has the best defensive rating in the NBA so far? San Antonio? Nope, seventh best. Cleveland? Tenth. Atlanta? Fallen to third.
It's Oklahoma City. Through four games — all wins — the Thunder are allowing just 88.1 points per 100 possessions.
We've all been watching Russell Westbrook, and with good reason. He put up 35-6-5 in a win against the Clippers Wednesday and it looked like an off night. He's been a beast.
But despite that, the Thunder offense is scoring less than a point per possession and is ranked 28th in the league so far. They are winning in spite of the offense, not because of it.
The Thunder are winning because of a physical, athletic, long, aggressive defense — one without Kevin Durant and Serge Ibaka (it wasn't talked about much, but Ibaka's overall defense had slipped the last season). Check out the Clippers' shot chart from Wednesday.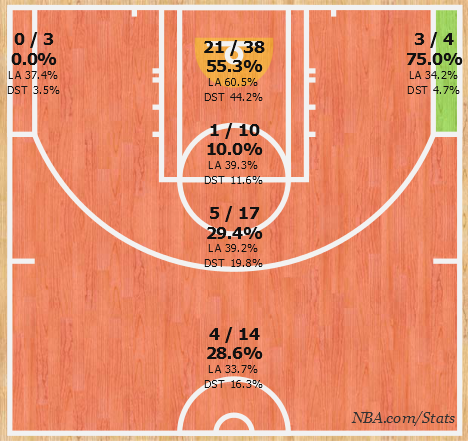 The Thunder are doing it with balance: Teams aren't shooting well, an eFG% of 45.5 (third best in NBA), the Thunder are forcing turnovers and cleaning up the glass. It's been a team effort — one that will get put to the test Thursday night against the Warriors.
We can question how long Westbrook can sustain this offensive pace, but if the Thunder can keep playing defense like this they will keep winning even if he slows down a little.
2) DeMar DeRozan scores 30, reaches Jordan/Kobe start of season numbers. DeMar DeRozan is feeling the post-Olympics bump to start the season. The Raptors guard dropped 40 on the Washington Wizards Wednesday night to lift Toronto to the win — he did it on 14-of-23 shooting, and once again had only one three, doing almost all his damage in the midrange (12-of-20 shooting from there).
DeRozan has scored at least 30 points in each of Toronto's first four games. Via ESPN's stats, who are the last three guys to start the season with at least four games of 30+ points? Kevin Durant in 2011, Kobe Bryant in 2005, and Michael Jordan in 1986. That's some impressive company.
3) It's early, but is anyone going to top Sam Decker for blooper of the year? Doubt it. A clear path to the basket, no defenders between him and the rim, and down he goes.
If you want to see more bad basketball from Wednesday, the Hornets and 76ers can help you out.