It's still very early in the NBA season — we're still watching small sample size theater — but we are starting to learn some things. Here is what we learned on Sunday while thinking that a Game 7 of the World Series is going to be fun (and all those 3-1 blown lead jokes Cleveland fans made after the NBA Finals don't seem as funny to them now)… 
1) Break up the Jazz — Utah beats San Antonio easily. In San Antonio. The outcome seemed preordained. We were in double-digits of consecutive Utah losses in San Antonio. Gordon Hayward was out. Boris Diaw sat for rest. Derrick Favors only played the first half. This game lined up to be a blowout. And it was.
Utah blew out San Antonio. The Jazz pulled away in the fourth for a 106-91 win.
George Hill is the only guy on the Jazz creating shots right now, and he did that to the tune of eight straight points in the fourth when the game was decided — he was phenomenal. Has been all season, carrying a heavy load. He was a force off the pick-and-roll with 22 points on 13 shots in this one, and he was attacking the rim or shooting threes, not settling in the midrange. You can see that in his shot cart — three midrange shots compared to 10 threes or shots at the rim.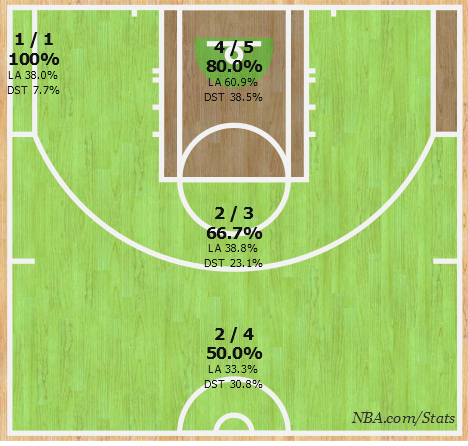 Pacers fans had to watch this, having seen the way Jeff Teague has stumbled out of the gate this season, and think "what the hell?" Frank Vogel rarely gave Hill the chance to play this way,  but Hill has skills and brings it on both ends.
Utah is going to be a playoff team if they don't dig too big a hole before they get healthy (and that could mean no Alec Burks for a couple of months). This win bringing them to 2-2 on the season is huge in that chase.
2) Sixers trade Jerami Grant to Thunder for Ersan Ilyasova and a pick — and it's pretty even. We have our first trade of the season, and while I don't love it for Philadelphia, the fact they got this pick makes this a wash for me in the long term. Short term, I don't love it for Philly. I get it, the Sixers need shooting, and Ilyasova does that far, far better than Grant right now. It gives Philly a healthy body up front. Plus Ilyasova is on an expiring contract.
But if it was just the player swap I wouldn't have liked the deal for Philly. Grant is just 22, incredibly athletic, on a very affordable contract and could develop into something. The Thunder are good at development, and OKC is looking for long guys who can play the three and four (they lost one of those this summer if you hadn't heard). I like the move for the Thunder, Ilyasova was not part of their future, Grant may not be but they have a chance to find out. The pick is what saves it for the Sixers — a first-round pick top 20 protected in 2020 or 2021, and if the Sixers don't get the pick those years it becomes two second round picks (2022 and 2023). That's a long-time off, but if they don't see Grant as part of the future it's a decent return for a guy they got in the second round.
3) DeMarcus Cousins had 13 points but picked up all six fouls in the fourth quarter. You read that right, DeMarcus Cousins had zero fouls through three quarters of the Kings game in Miami, then picked up all six and fouled out in the fourth quarter — thereby missing overtime in the eventual OT loss to the Heat. Cousins was livid — and he had a right to be. It's tempting to blame Cousins' demeanor, but he handled it fairly well. Some of those calls should have been no-calls, some others were borderline calls that could go either way and went against Cousins. Coach Dave Joerger said after the game he had watched the fouls and said they were "unbelievable" and said "I don't know…" then trailed off trying to avoid getting a fine. He then added that with physical players like Cousins, they are difficult to officiate.
Here is the one where Cousins fouls out:
The Miami broadcasters like the call, but of course they do they are wearing Heat goggles. This could have gone either way, but it's not a bad call, Cousins does get his left arm on the inside of Whiteside and hooks him, but he doesn't extend and push. The thing is, Cousins never gets that call from the refs. Several of the rest were much worse calls, this one was legit. Cousins has the rep with refs and does not get the benefit of the doubt, and it cost him here. (Although the Kings could still have won if Rudy Gay didn't airball a potential game winner.)
But Cousins did have a brilliant block of Whiteside earlier in the game.