It's still very early in the NBA season — we're still watching small sample size theater — but we are starting to learn some things. Here is what we learned on Sunday while deciding maybe not to hand out those last couple packets of Skittles to the little kids because damn, they are good…. 
1) DeMar DeRozan is averaging 35 points a game — and has yet to hit a three. Toronto held off Denver north of the border Monday night in a game that required 33 points from DeMar DeRozan and 29 from Kyle Lowry — the Raptors gold-medal, All-Star backcourt just keeps getting it done, and the Raptors are 2-1 (with the only loss a close one to Cleveland).
DeRozan is averaging 35 points a game through three this season and is doing it old-school — he has yet to hit a three, and he has dished out only four assists. Brook Lopez has attempted more threes than DeRozan. He's just putting his head down and getting to his spots — and it's working. For now. He's shooting 53.8 percent through three games with an impressive (and career best) true shooting percentage of 59.6. Look at his shot chart and you see a guy finishing at the rim (12-of-15 inside the restricted area) and in the midrange on the right side of the court.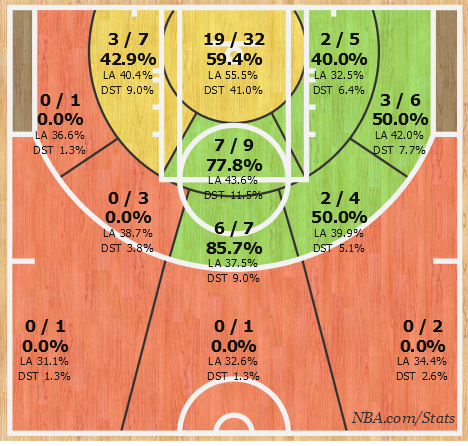 It works because most modern NBA defenses want to protect the rim, run opponents off the three-point line, and try to contest but give up the midrange. DeRozan is old school and can just beat you from there. And we do mean old-school.
Can DeRozan keep these numbers up? It's tempting to say no on the face of it, but last season he made a three about every other game and averaged just four assists a night (he's at 1.3 a game now) — he's done this before. That scoring average is going to come down a little this season, but on the whole, he can likely keep this up.
At least until the playoffs start.
2) Eight players from the 2013 NBA draft got rookie contract extensions. Monday at midnight was the deadline for teams and players from the 2013 NBA Draft Class — one of the weaker classes in years — to get extensions to their rookie deals. In the end, eight did, and here are the numbers, all of them four-year deals:
C.J. McCollum (Portland): $107 million
Rudy Gobert (Utah): $102 million
Giannis Antetokounmpo (Milwaukee): $100 million
Steven Adams (Oklahoma City): $100 million
Victor Oladipo (Oklahoma City): $84 million
Gorgui Dieng (Minnesota): $64 million
Dennis Schroder (Atlanta): $62-70 million
Cody Zeller (Charlotte): $56 million
Best deal for the team may be the Bucks getting Antetokounmpo for a little less than the max — but to do that they did not give him (or get him to take) a fifth year. That means he's a free agent a little sooner, something the Bucks could regret. Gobert also took a little less and could have pushed for more.
Remember, most of the guys who did not get an extension will be restricted free agents next summer — their teams have the right to match offers. Teams only are likely to lock up true cornerstone players (Antetokounmpo, Gobert, etc.) or guys they can get on what they see is a good deal (Dieng, Zeller).
The No. 1 pick in the 2013 Draft was Anthony Bennett, who is getting another shot with the Nets this season but who was never in consideration for an extension (he is in consideration for worst No. 1 pick ever, which is one of many reasons Chris Grant is no longer the Cavaliers GM). The next highest pick without an extension is Otto Porter in Washington, the Wizards are wisely going to let the market set his value. Same with the Sixers and Nerlens Noel — maybe they want to keep him, but they need to see how he fits with Joel Embiid, Ben Simmons and the rest of their young front line. Kentavious Caldwell-Pope wanted more than $20 million a season from Detroit, Stan Van Gundy likes him but wisely didn't agree to pay that. Caldwell-Pope is now playing for his payday next summer.

3) Paul Pierce as Rick James is the best NBA Halloween costume. There is no debate — he wore it on the Clippers' bench during the game.