The NBA had its first full slate of games, and PBT is back with our morning recap of what you need to know from the night before around the NBA — three things we learned. This is what you missed while getting arrested for blocking traffic dressed as a tree.
1) Lakers youth shows out. Rockets are what we thought they were. Last season's Kobe Bryant farewell tour was entertaining at moments — but Wednesday night the new, young, Luke Walton Lakers were unleashed and that was a much better show. And it was show Lakers fans have longed to see. For the first time D'Angelo Russell looked like he enjoyed playing in the NBA. Jordan Clarkson was clutch and led the team with 25 points. Julius Randle used his athleticism wisely on his way to 18. Brandon Ingram showed flashes. Heck, I swear I saw Nick Young doing the dirty work on defense. Sure, it helps when the opposing defense is basically a matador waving a cape as you drive past them, still these young Lakers were attacking, playing fast — and winning, 120-114. No, the Lakers are not suddenly morphing into a playoff team in the West this season, but their young stars came out of Kobe's shadow and basked in the sunlight for a night. This team is going to be fun. And it's the show Lakers fans have wanted to see.
This season is so simple for the Rockets: They will go as far as their defense takes them. And that defense was a dumpster fire on opening night (the Lakers scored at a 115 points per 100 possession pace). In the second half the Lakers upped their defensive pressure and when the Rockets offense stumbled — 18 points in the fourth, just two in the final 2:55, no James Harden assists for more than 18 minutes — there was nothing for Houston to fall back on. The Rockets are going to be a entertaining to watch this season, but if their defense doesn't improve they will lose a lot of games just like this.
2) Anthony Davis put up Jordan, Wilt numbers on opening night — and it was not enough. Anthony Davis is back. A year ago he was the guy most NBA GMs said they wanted to build around, then after one "down" season (24.3 point and 10.3 rebounds a game is down?) everyone is in love with Karl-Anthony Towns. Tuesday, Davis reminded everyone he's a beast. A franchise player. Absolutely unstoppable when he gets going. And Wednesday night he was going — 50 points (on 34 shots), 16 rebounds, seven steals, five assists, and four blocks. Only three others in NBA history put up 50 on opening night: Wilt Chamberlain, Elgin Baylor and Michael Jordan. That is some serious company.
And the Pelicans still lost to the Denver Nuggets. For all Davis' greatness the management in New Orleans has not put enough team around him to win games, not at a "make the playoffs" level anyway. Pelicans not named Davis shot 36.2 percent overall and 17.7 percent from three. This isn't on coach Alvin Gentry, blame falls higher up the ladder. The clock is now ticking in New Orleans — Davis is in the first season of his new five-year contract (the first after his rookie deal). If the Pelicans don't have it together around him by the time this contract is up, he's going to bolt.
3) Myles Turner might be your Most Improved Player. When we at PBT made our award predictions for the coming season, I did not pick Myles Turner for Most Improved Player (in part because I don't like to pick second-year players for that award — they are supposed to improve). But as NBC's Dan Feldman told me lat night, we both should have picked him. Wednesday night Turner looked like the guy making the biggest leap — he had 30 points,16 rebounds, and four blocks in the season opener. He's the guy who led the Pacers to an overtime win over the Mavericks. Paul George had an efficient 25, he stepped up as you'd expect in OT, but this was Turner's night. He can score inside and has range — does this shot chart work for you?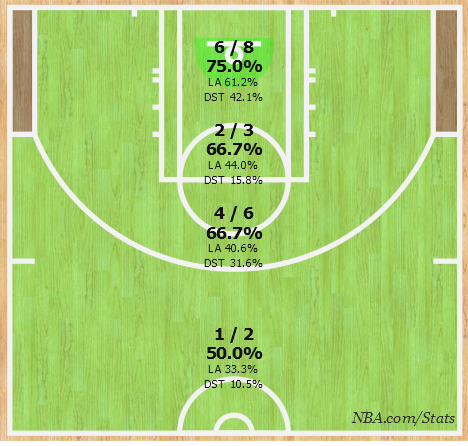 If Indiana is going to be a real playoff threat, they are going to need this Turner regularly — and they just might get it. This guy is ready to take the next step.
Bonus Wednesday note: If you're betting that Russell Westbrook can average a triple-double this season, opening night was a good night for you. Westbrook had 32 points, 12 rebounds and nine assists. He is going to just be a stats machine this year.