UPDATE Oct. 19: Anthony Davis found his assistant — TonyBot.
This was all part of a new Red Bull campaign with Davis as the star, you can check out the video here. The idea is a pseudo-Davis robot that becomes his assistant.
Oct. 17: Well, he could be looking for far worse things on Craigslist.
Like many a millennial, when Anthony Davis wants or needs something, he takes a look at Craigslist. So when he decided he needed a personal assistant, well, he posted this ad.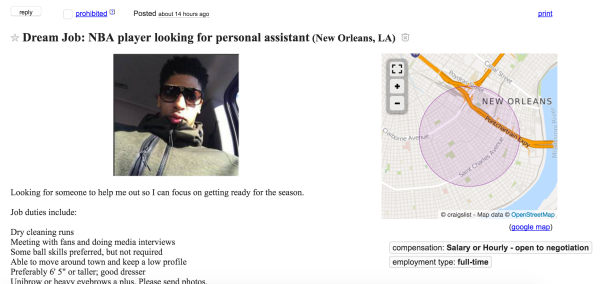 If you're thinking this is a hoax, know Davis linked to this from his Facebook page. So it's legit. Or an intricate hoax/play that he is in on.
If you're thinking of applying, you need to live in New Orleans, be a good dresser, should be at least 6'5″, and some hoops skills would help, as would having a unibrow. That certainly narrows down the talent pool.