It wasn't all fun news from the Rockets in China.
Houston point guard Bobby Brown – on an unguaranteed contract during the preseason – posted a photo of his name written on the Great Wall of China: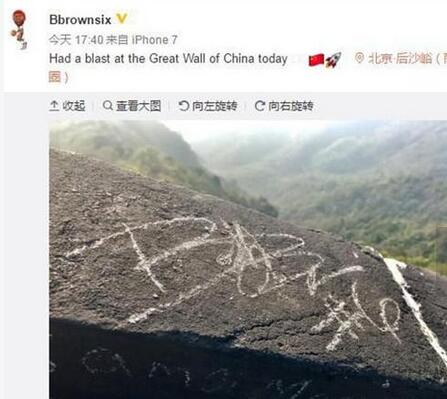 Brown has played the last few years in China, which is barely relevant. Not defacing historical sites is just common sense.
At least Brown apologized in a statement, via the Houston Chronicle:
"We were out enjoying the Great Wall. I never been, it was my first time. I wrote my name on the wall in chalk. I saw different writings – I didn't mean any harm by it. I made a mistake. I could have just put my hand over it and erased it. It will never happen again. I've been playing in China for three years now and I have the utmost respect for the Chinese culture, and the way of living here. I pretty much adapted, coming from the states, here for three years. My teammates, the fans in Shenzhen and the fans all over were great to me, and I just want to sincerely apologize for that."