Losing to Puerto Rico was stunning. Falling to Lithuania was dispiriting.
But after those group-play losses in the 2004 Olympics, the strong belief was Team USA would rally to win the knockout stage. After all, the Americans had claimed every Olympic gold medal in the Dream Team era.
Of course, it didn't go that way.
The Americans lost to Argentina in the semifinal, sending USA Basketball into crisis.
But the U.S. program has rebounded. Jerry Colangelo was charged with leading the turnaround, and he hired Mike Krzyzewski to guide it. The very best players, at least until this year, took greater pride in playing in the Olympics. LeBron James, Kobe Bryant, Dwyane Wade, Carmelo Anthony, Chris Paul, Dwight Howard and Kevin Durant helped Team USA win gold medals in 2008 and 2012.
Since that loss to Argentina, the Americans are 20-0 in the Olympics.
That 20-game Olympic win streak is tied for the third-longest ever – matching one U.S. streak and trailing two others: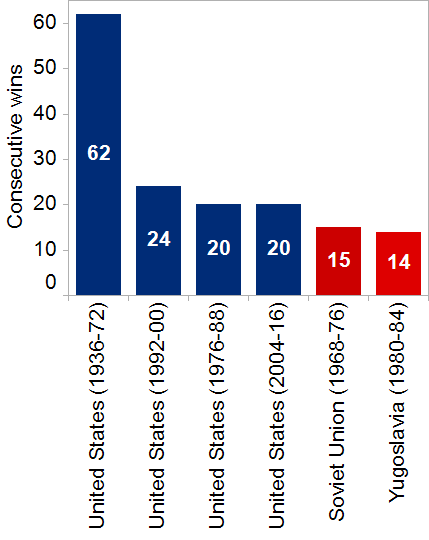 If the Americans beat Serbia – 6 p.m. tonight on NBC Sports Network and streaming online here – they'll take sole possession of the third-longest win streak in Olympic history. If they add a win over France on Sunday and go onto win the gold medal, they'll claim the second-longest streak – passing the 24-0 mark set by the Dream Team, Dream Team III* and whatever you wanted to call 2000 Team USA.
*Dream Team II competed in the 1994 FIBA World Championship.
Nothing is guaranteed, and one off night could cost the U.S. its streak. Matching the Americans' 62 straight wins to begin Olympic basketball competition seems nearly impossible.
But, after the uncertainty of 2004, this sustained run of victories is another sign:
Team USA is back.